By the numbers
Savings presented by 14th Judicial District Attorney Elizabeth Oldham
- $1,000 accounting
- $3,000 office supplies
- $1,000 office equipment
- $500 phones
- $10,000 salary overage
- $8,200 vacancy for victim/witness coordinator in Grand County
- $19,000 reimbursement (estimate of expected returns after audit)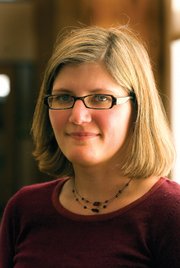 Steamboat Springs — Fourteenth Judicial District Attorney Elizabeth Oldham said her office may not be returning long-distance phone calls as often and may have to skimp on office supplies in the coming year, in the face of tough budget cuts.
Oldham presented a list of $42,700 in cuts and savings from her office's operational budget to a thankful Routt County Board of Commissioners during a meeting Tuesday.
While the commissioners are not able to cut the personnel budget of the DA's office without the agreement of the other two counties in the district - Moffat and Grand - Oldham presented a list of savings her office can make to help the county's budget crunch.
The list includes $10,000 in salary overages that will be removed, $8,200 saved in Routt County by not filling a vacancy in Grand County and even $500 in potential savings in phone calls.
"We may not be returning long-distance phone calls as much," Oldham told the commissioners.
Commissioners, who recently have had to implement furloughs and pay cuts for county staff, said the gesture was appreciated.
"Thank you for doing this without us even asking you to," Commissioner Nancy Stahoviak said.
Oldham said that while the budget cuts will cause difficulty in covering required job duties, overall she was pleased she was able to retain her staff and find cuts in other areas.
"I think my employees are incredibly relieved," she said.
Commissioner Doug Monger also told Oldham that the cuts were appreciated and that countywide cuts likely would remain in effect until 2010, although they will be stopped as soon as necessary.
"It's not our hope to continue on with 10 percent pay cuts or furloughs. It's our hope to end them by 2010. The pay cuts and furloughs are only temporary," he said.
Because the Grand and Moffat county commissioners did not agree to cut the DA's personnel budget, no DA staff member will have a salary decrease in the coming years.
Oldham said the $10,000 cut from salary overages originally was intended to be used for promotions in her staff.