By the numbers
Steamboat, Springs' precipitation
(in inches)
Month, 2009, Average
Jan., 4.6, 2.48
Feb., 1.46, 2.22
March, 1.41, 2.06
April, 2.04, 2.21
May, 1.06*, 2.21
Total, 10.57*, 9.15
* As of Monday
Source: Bryon Lawrence, hydrologist, National Weather Service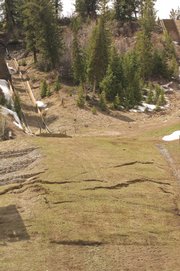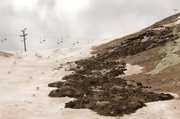 Steamboat Springs — The first few days of May already have brought Steamboat Springs more than half of its average precipitation for the month, but officials still see no heightened flood risk this year.
Spring showers have created some noticeable headaches, however, including closures on the Yampa River Core Trail and visible slope failures on the face of city-owned ski area Howelsen Hill.
Bryon Lawrence, a hydrologist with the National Weather Service in Grand Junction, said there have been 10.57 inches of precipitation in Steamboat Springs this year as of Monday. The historical average for the same timeframe is 9.15 inches. There were 1.06 inches of precipitation in the first three days of May alone. The historical average for the entire month is 2.06 inches, according to Lawrence.
"We're off to a wet start in May," Lawrence said. "Yes, it is wetter than normal, and yes, streams and rivers are going to rise accordingly, but we're not expecting any floods in Steamboat Springs. : At this point, we're looking at a very low risk of flooding."
As of Monday evening, the Yampa River in Steamboat Springs was flowing at 1,320 cubic feet per second (cfs), compared with a historical mean of 1,110 cfs and median of 1,160 cfs, according to U.S. Geological Survey station readings.
Lawrence said the Yampa is expected to peak at 3,700 cfs this year between May 19 and June 12. That's well below the flood stage of 4,800 cfs, which Lawrence said there is only a 10 percent chance the river will reach. The Yampa River peaked at 3,590 cfs last year on June 3. It's normal peak flow is 3,240 cfs, according to Lawrence.
The Elk River near Milner was flowing at 2,570 cfs as of Monday evening, according to the USGS, well above the historical mean of 1,500 cfs and median of 1,390 cfs. But Lawrence said the Elk River also has only a 10 percent chance of exceeding its flood stage this year. The Elk is expected to peak at 4,000 cfs between May 19 and June 12. The river's flood stage is 5,300 cfs. Its normal peak flow is 4,160 cfs. Last year, the Elk River peaked at 6,290 cfs May 22 and caused flooding near Milner and in North Routt County that required the closure of some county roads and the distribution of 7,000 sandbags to hold back the rising waters.
Despite the recent heavy rain, both Lawrence and Routt County Emergency Management Director Bob Struble said alternating warm and cool temperatures have helped pace the melting of the snowpack and mitigated flooding threats.
"It's still a normal year," Struble said Monday. "Cool days like today are helping. : (The snowpack is) coming off real nice."
Slides
Chris Wilson, the city's director of Parks, Open Space and Recreational Services, said Howelsen Hill has a history of soil movement and that the city previously recognized it needed to do work to shore up the slope. But while the city budgeted $150,000 for slope stabilization this year, Wilson said repairing the most recent failures could cost more.
"We knew we had a problem," Wilson said. "We haven't seen a slump on the Alpine hill like this since 2003-04. : This slope failure was not anticipated, obviously."
Routt County Road and Bridge Director Paul Draper said department officials toured the county Monday and did not find any new mudslides impacting county roads.
The county has enacted two seasonal road closures because of high water, however. Routt County Road 80, also known as California Park Road, is closed from the gate at the south Forest Service boundary to the gate at the north Forest Service boundary. C.R. 18 is closed from the cattle guard below Stagecoach Reservoir to the gate at Pleasant Valley.
Both closures apply to all vehicular traffic except law enforcement and emergency vehicles and will last no more than 90 days.
"We want that to dry up naturally. That saves us maintenance dollars," Draper said. "We'd ask the public to honor these closures and not tear our gates down."