Cannon wins bike race in Fruita
Steamboat Springs rider victorious in solo women's division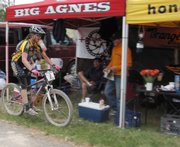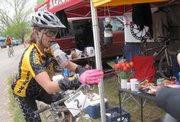 Kris Cannon is the first to admit she wasn't sure what to expect when she arrived at Highline Lake State Park late last week for the 18 Hours of Fruita mountain bike race.
Rain and snow in the Yampa Valley had limited her ability to prepare for the race. Local trails still are too wet to ride, and her only chance to get off road on her mountain bike came when she traveled to warmer, drier places for a weekend rides.
"I wasn't exactly sure how it would go," Cannon said Monday. "This race is pretty early in the season, and I trained as much as I could, but I didn't really have a good feel for the race."
None of it seemed to matter, however, as Cannon cruised to victory in the women's solo division. She completed 29, six-mile laps to take the title Saturday afternoon.
When all was said and done, she had covered nearly 175 miles in 17 hours, 26.54 minutes. She finished four laps ahead of second-place finisher Anne Spalding, of Grand Junction, and 13 laps ahead of third-place finisher Jaimie Zelkin, of Steamboat Springs.
"I was nervous that I wouldn't be ready for it," Cannon said Monday. "I didn't feel really comfortable until the next morning. I wasn't happy with my night laps. I only had one light, and it was really dusty."
After the race, Cannon was quick to credit her support crew of Amy Harris, Nate Bird, and Tadius and Melissa Huser.
"They did all the hard work," Cannon said. "They kept me going, they kept my bike going. All I had to do was pedal."
And pedal was exactly what Cannon did for most of her 17-plus hours on the course. However, a steady rain at the end of the event forced her off the Trek Top Fuel 9.8 bike she was riding. She carried it for most of the final lap after the mud got so thick that it packed between the wheel and the fork of her bike.
"At the end it was impossible to ride," Cannon said. "But that was something that all the riders had to deal with."
Several other Steamboat riders also traveled to Fruita for the race, including Cannon's Honey Stinger/Trek teammates Rob Peterson and Nate Johansing, who raced in the two-man event.
Peterson and Johansing competed 27 laps to place eighth. J&K Boulder won the two-man event by completing 37 laps, Lightning Rider was second with 36 laps, and NB-Team Gist was third with 35 laps.
Steamboat's Mike Sharkey, racing for Me, Myself and I, placed third in the men's solo division by completing 29 laps. Dereck Fish, of Vail, won the men's solo division with 35 laps, and K.C. McCulston of Boulder was second with 34 laps. Steamboat rider Josh Enck was sixth with 26 laps.