Local swine flu preparations continue
No Routt County cases have been confirmed, but some tests are still pending
Updated May 5, 2009 at midnight
Document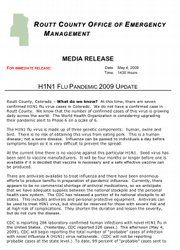 Steamboat Springs — Swine flu hasn't been confirmed in Routt County, but government and medical officials continue to develop plans in case it appears.
County school officials, emergency management personnel and medical officials briefed the Routt County Board of Commissioners about the swine flu situation Monday. Local doctors have sent samples from residents who have influenza so they can be tested for the H1N1 virus, or swine flu.
Those samples will go to the state health agency and, if additional testing is necessary, to the Centers for Disease Control and Prevention in Atlanta.
"They're so backlogged right now, what normally takes 48 hours is taking five days," said Jim Johnsen, the emergency preparedness and response coordinator who works with the Northwest Colorado Visiting Nurse Association.
Johnsen said he wasn't sure how many samples awaited swine flu testing. Field testing kits are scheduled to arrive in Denver this week, which would speed up the process, he said.
"I'm feeling a little better than I was six days ago," Johnsen said. "I look at all the plans developed by various agencies, and we're sticking to them, and they're going well."
Routt County school officials said they plan to close campuses for two weeks if a student or staff member is infected. Shalee Cunningham, superintendent of Steamboat Springs schools, said the district was encouraging students to wash their hands and was cleaning schools more often.
"Teachers are writing lesson plans so if indeed we have to close the schools, children will be able to work online or at home with packets," Cunningham said.
Routt Emergency Management Director Bob Struble supported the plan to close schools if swine flu appears.
"The policy the schools are following is what the CDC recommends," Struble said.
Emergency management officials are meeting daily to discuss their plans in case of an outbreak, he said.
The county has received antiviral medications such as Tamiflu, which can lessen the severity and duration of the flu but cannot cure it. There is no vaccine against swine flu, a news release from the Routt County Office of Emergency Management stated.
"Seed virus has been sent to vaccine manufacturers," according to the document. "It will be four months or longer before one is available if it is decided that vaccine is necessary and a safe effective vaccine can be produced."
The CDC reported seven confirmed cases of H1N1 flu virus in Colorado on its Web site Monday. The Colorado Department of Public Health and Environment reported six in a news release. The seventh person is being retested, The Associated Press reported.
Colorado's cases appeared in Adams, Arapahoe, Douglas, Eagle and Jefferson counties, according to a news release from the Colorado department. Jefferson County reported two cases.
"People who experience influenza symptoms should stay home for seven days after onset of symptoms or at least 24 hours after symptoms have resolved, whichever is longer," the news release stated.
The CDC has reported 250 to 300 laboratory-confirmed cases of swine flu in 36 states, and one boy died in Texas. The World Health Organization reported 1,085 cases in 21 countries as of Monday. People cannot get swine flu from eating well-cooked pork and pork products, that agency stated.
County officials reminded people to stay at home if they develop flu-like symptoms: fever, sore throat, cough, headache, stuffy nose, chills, body aches or fatigue.
Routt County Commissioner Doug Monger praised local emergency and medical officials' work.
"The plan includes not an overreaction but a due diligence," Monger said.