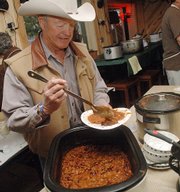 Winners
North Routt Chili Cook-off
Red Chili: Pam Heinrich, "Elkalope Sweet Thang"
Green Chili: George Trujillo, "Flat Tops Green Chili"
Other (Soups, etc): Jean Urban, "Whitey Tighty Chili"
Dessert: Zava Zupan, "What's Up, Doc?" carrot cake
The special touch to Pam Heinrich's chili is more than hard work.
It's more than the kidney beans, and it's harder to find than the brown sugar she uses to sweeten her recipe.
To make her first-place "Elkalope Sweet Thang" red chili for the seventh annual North Routt Chili Cook-off, Heinrich harvested the elk and antelope used in the dish herself.
This marks the first year Heinrich has hunted, and it's the first time she entered a dish into a cooking competition.
"I would say the brown sugar and the roasted fresh chilies were the most important," she said about achieving the right flavor for the combination of elk, antelope and beef.
The cook-off, a fundraiser for the North Routt Community Charter School and Preschool, drew about 600 people throughout the day.
"We had 400 last year, and we thought that was big," said Erick Knaus, one of the organizers and third-place red chili winner. There were 45 entrants in the four categories - red chili, green chili, desserts and other dishes, usually soups.
It was par for the course for George Trujillo, who scored his third win in the green chili category in seven years.
Trujillo spent about 14 hours preparing the dish, called Flat Tops Green Chili, with most of it occupied by peeling chilies and grinding pork.
Zava Zupan became the youngest first-place winner - and the first entrant from a junior category to win the top prize - with her "What's Up, Doc?" carrot cake.
The 10-year-old charter school student said it was the first time she had baked the recipe, which includes pineapple, crushed carrots, raisins and walnuts.
"Well, it took most of the morning to make," she said, adding that she plans to continue entering the contest in future years.
The money raised from the fundraiser will be divided between the two schools and used for their general operating budgets and for the charter school's planned expansion to a new building, said Hillary Ackerman, preschool director.
Knaus said the school is about $2 million from reaching its goal.