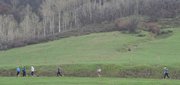 Official race results
5-kilometer results
1. Stephen Moxey, 17:53
2. Derek Leidigh, 18:55
3. Glen Light, 19:15
4. Ashley Kramer, 23:15
5. Lisa Adams, 24:27
6. Don Schwartz, 26:07
7. Shayna Cooke, 26:47
8. Ginger Scott, 26:58
9. Deb Freeman, 26:58
10. Jesse Pugh, 27:10
11. John Nyen, 27:54
12. Barbara Block, 27:59
13. Chelsea Yepello, 28:15
14. Richard Sterling, 28:12
15. Carson Russell, 29:00
16. Olivia McKendrick, 31:48
17. Tony McKendrick, 31:48
18. Chad James, 32:07
19. Sally Kate Shepard, 34:13
20. Carol Morton, 35:27
21. Elizabeth Ryan, 35:38
22. Elizabeth Black, 36:30
23. Mark Louden, 36:40
24. Olivia Murry, 39:34
25. Sabrina James, 43:21
26. Georgian Kalow, 46:48
27. Ethan Russell, 54:54
28. Joylynn Phillips, 55:10
10-kilometer results
1. Allen Belshaw, 38:13
2. Andy Picking, 39:19
3. Harry Niedl, 39:42
4. Willy Graves, 40:02
5. Jack Burger, 42:46
6. Darby Dale-Burger, 44:05
7. Bob Cottrell, 44:07
8. Sarah Hamilton, 44:12
9. Walter Magill, 46:35
10. Sean Johnson, 46:53
11. Lynn Picking, 46:59
12. Tom Nelson, 48:27
13. James Morton, 49:07
14. Darrell Brunder, 49:53
15. Mary Schuette, 49:58
16. Scott Rankin, 51:24
17. Hannah Williams, 51:28
18. Kris Anderson, 51:46
19. Somer Daich, 54:02
20. Ernst Steffen, 54:21
21. CJ Burger, 54:45
22. Bernard Petersen, 55:04
23. Kelly Becker, 55:16
24. Emily Conjura, 55:19
25. Andy Volk, 55:46
26. Tatiana Cone, 55:52
27. Erik Jones, 57:15
28. Jennifer Paoli, 59:10
29. Kim Chotvacs, 59:23
30. Meghan Alexander, 59:49
31. Lisa Barbour, 1:02:09
32. Madison McKinstry, 1:03:16
33. Patrice Lorenzen, 1:03:36
34. Gena Fisher, 1:03:36
35. Kathy McKinstry, 1:04:16
36. Kristen Morris, 1:05:59
37. Diane Carter, 1:10:05
38. Rochelle Aiken, 1:12:16
39. Kevin Aiken, 1:12:16
40. Ellissa Chapman, 1:12:24
41. Deirdre Mewborn, 1:12:24
42. Brande O'Hare, 1:12:26
43. Arthur Weber, 1:15:49
Steamboat Springs — Editor's note: This story has been corrected from its original version. Ashley Kramer was the first female finisher in the 5K race, followed by Lisa Adams in second and Shayna Cooke in third.
All that Legacy Education Foundation President Marcia Martin had to do to see the success of the 24th annual Spirit Challenge was take a look at the Russell family.
Although the first race of the Steamboat Running Series was devoid of its normal walk-a-thon, that didn't stop a pair of Russell children from competing.
Nine-year-old Carson and his 6-year-old brother, Ethan, strapped on shoes on a brisk, rainy Saturday and competed in the 5-kilometer race.
Carson, an old veteran at this point after running the 5K the past two years, didn't quite hit his goal. Ethan, however, seemed to enjoy the course on his first 5K, even with a constant rain.
"My favorite part was all the downhills," Ethan said. "It's relaxing."
Children like Carson and Ethan are a big reason the race has remained such a hit in the Running Series.
Large portions of the 5- and 10-kilometer races benefit the Legacy Education Foundation, which gives grants to teachers in Routt County public schools for projects that promote student involvement in community leadership or support the community overall.
"It helps fund some things with the shrinking education dollars," Martin said about the race, which had 70 registered racers. "Sometimes we pay for buses for field trips so kids can have more experiential education. It's amazing to see the young kids run."
Stephen Moxey won the men's 5-kilometer in an unofficial time of 17:53. Derek Leidigh finished second, and Glen Light came in third. On the women's side, Ashley Kramer took the top spot with a time of 23:15. Lisa Adams came in second, and Shayna Cooke finished third.
Finishers' times in all the races were not confirmed as of Saturday evening.
In the 10-kilometer race, Allen Belshaw finished first with an unofficial time of 37:13. Andy Picking finished second, and Harry Niedle finished third. Darby Dale-Burger finished first in the women's 10-kilometer race for the second straight year with an unofficial time of 44:05. Sarah Hamilton followed in second, and Lynn Picking came in third.
"I start to feel like I'm getting old I've done this so many times," said Belshaw, who was pushed the entire time by Andy Picking. "But this is the first time I've won this race."
The Running Series continues June 7 with the Steamboat Marathon.