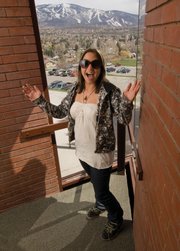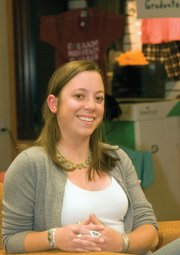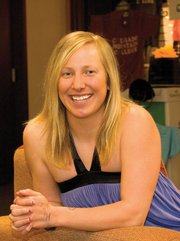 Audio Slideshow
Colorado Mountain College graduation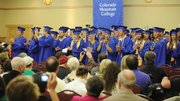 Colorado Mountain College held its graduation ceremony Saturday at the Steamboat Grand Resort Hotel.
Saturday's CMC commencement was spirited
"I feel like something's on the horizon but I haven't reached it yet," Spyker said.
More than 60 Colorado Mountain College students flipped their tassels and became graduates Saturday during the Alpine Campus' lively commencement at the Steamboat Grand Resort Hotel. Hundreds of friends and family members packed a hotel ballroom to cheer and whistle as students received associate's degrees in fields including resort management, outdoor education and the arts.
Dr. Peter Perhac, who took the reins as the campus's chief executive officer in December 2008, said he already has gotten to know members of the college's Class of 2009 and is very optimistic about what lies ahead for them, despite a tumbling economy.
"They are bright, enthusiastic and looking toward the future," Perhac said. "It is an extremely talented group."
Steamboat Springs School District Superintendent Shalee Cunningham gave the commencement address at Saturday's ceremony.
She told the graduates her personal life story of becoming pregnant as a teenager and being a young single mother, outcast by her friends and community. But community college embraced her and motivated her to expand her education, Cunningham said.
She would go on to earn her doctorate and become an administrator in the field of education. She became Steamboat's superintendent in April 2008.
Assistant Campus Dean of Student Services Brian Hoza read the names of each graduate Saturday, also reading personalized thank-you messages as each student crossed the stage - many to rowdy cheers.
Students used the light-hearted messages to thank everything from Steamboat's Champagne Powder to the Steve Miller Band, President Barack Obama and the National Football League.
But most students focused on parents or other family members, friends and CMC faculty.
"I'd like to thank Terry Hunter for pointing me in the right direction," Douglass Dorrell, who graduated with a degree in resort management, said about the longtime resort management professor.
Perhac said he has not heard fears about the economy and job market from the graduates.
"They seem to be go-getters," he said.
"These are challenging times, and I believe these students will step up to the challenges."
- Mike Lawrence and Matt Stensland
Steamboat Springs — After the last graduate from Colorado Mountain College's local Alpine Campus crossed the stage Saturday, the real work began.
Heading into a world with a depressed economy and faced with the prospect of staying in a resort town with above-average cost of living, students are finding that answers aren't coming easily.
But several are realizing they may not need answers right away.
Student Cody Spyker spoke during Saturday's lively commencement, held in an overflowing ballroom at the Steamboat Grand Resort Hotel. Last week, Spyker said she finds herself ahead of the game. Spyker, from Glenwood Springs, graduated from high school a year early and finished her CMC coursework with an associate's of the arts degree at the age of 19.
"Even if I take a year off, I would be where I started off," she said.
Spyker said she's looking at in-state, four-year colleges to finish her bachelor's degree, perhaps after taking a year to study abroad or travel. The economy doesn't factor heavily into her decisions, she said, but "I am pursuing scholarships more than I would have a couple years ago."
"It's better to be a student at this point in time than to try to get into the job corps," Spyker said.
Classmate Elise Kuczera, graduating with honors, said she also plans to continue her education, likely at a college in Maryland, where her parents now live. She said the economy is urging her to look for in-state tuition in Maryland, as well as additional scholarships.
"I'm doing whatever I can to help my parents out and get scholarships, and work at a ski and snowboard shop or as a lifeguard," she said.
Kuczera earned an associate's of the arts degree, as well as a certificate of occupational proficiency in ski and snowboard business.
Job security
With jobs increasingly hard to find, graduate Ryan Fleming has a step up on the competition - he's already employed in the job field he trained for.
At age 33, Fleming knew he wanted a job in resort management. After three years at CMC, he graduated with an associate's degree in resort management and a certificate in outdoor education, with honors.
"I'm fully infected with the
Yampa Valley curse," Fleming said last week, as he worked at his job of front desk manager at Pioneer Ridge.
Fleming took his job a year ago as part of a work internship program. He said he plans to stay in Steamboat for the foreseeable future.
"The great thing was, I felt I was a step ahead of the game because I had found and got a job in what I want to do, and I got an education in what I want to do," he said.
But with job in hand or not, Spyker said the options still are wide open.