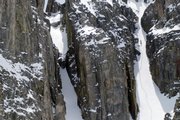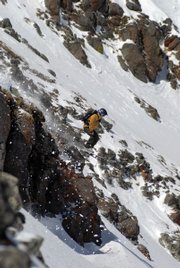 Steamboat Springs — Aryeh Copa sat indoors on a rainy Saturday morning, and he was disappointed.
"I skied 180 days last year," he said, casting the occasional eye out a window at the slow drizzle that a month ago might have been refreshing snow. "I'm only at, like, 130 days this year."
He paused, in a moment considering the snow conditions not at the easy-to-check Steamboat Ski Area but on peaks hidden in wilderness areas north and south of Steamboat Springs.
"I might be able to get in 50 more days," he said.
Steamboat Ski Area closed nearly a month ago, when hundreds of skiers and snowboarders bid the season a fond and sudsy farewell at the closing day concert in Gondola Square.
For Routt County's most dedicated, however, "closing day" almost is a midseason mark.
"We're still skiing a few times a week," Copa said. "We still see this as prime ski season."
Opportunity remains
Copa's not alone. Locals have spent the weeks since the ski area's closing plowing through the always-popular Buffalo Pass. The symmetrical curved paths through any fresh snow on Mount Werner signify that hiking the closed ski mountain remains popular, as well.
"It's the best time of year to go skiing," said backcountry enthusiast Pete Van De Carr. "I love slushy and sloppy snow conditions. Also, this time of year, your legs are strong, so you're capable of skiing that kind of thing."
A steady stream of kayakers flowed through Van De Carr's Backdoor Sports store Friday, as the Yampa River flowed noisily just a few feet outside his open back door. Still, he couldn't shake his anticipation for an upcoming ski trip.
Echo Mountain and Loveland Basin - two of Colorado's three ski areas that remain open - close after today. Arapahoe Basin, meanwhile, will continue operations until June 7.
Van De Carr said his family plans to stick with their tradition of venturing to the slopes on Mother's Day.
"The kayaking is good right now, but the skiing is phenomenal," he said. "It's not very busy anywhere. Down at A-Basin, there's nothing glamorous about it. It's just the hardcore skiers down there. It's my favorite day of skiing all year."
Like a different county
Copa and his crew have taken to trying just about anything they can dream up in the rough terrain on the northern and southern ends of Routt County.
Copa is an 18-year veteran of the valley and a freelance photographer. His friends - local semi-professional skiers with sponsorships big and small - often are the subjects of photographs he sells to skiing magazines and sponsors.
It may seem like an odd profession for Steamboat. Compared to craggy peaks in other parts of the state, Routt County can seem tame.
Not so, said Copa.
"We do have really good skiing in Routt County, but it's in the wilderness areas so you really have to earn your turns," he said. "There's all sorts of great lines in the Flat Tops and in the Zirkel area, you just have to know where to go and how to find it."
It's the kind of terrain North Routt's Steven Cole enjoys skiing with a step outside his door.
"It's almost gone," he said, lamenting the melting snow. "It's almost to where we will have to hike through some mud before we strap on our skis."
He said late-season backcountry skiing is different than a day in January but every bit as enjoyable.
"It's fun. You get to go places you can't during the season because it's safer. And, it's simpler to hike on top," he said. "Up north, it's still all Routt County, but a bit longer and a bit steeper than what they have for backcountry at Buff Pass or off the mountain."
Early risers get the line
Things usually start with an alarm clock - 4, 5 or 6 a.m., depending on how far and how big the team plans on going.
An hour in the car, a couple on a snowmobile and maybe twice as much time skinning or climbing toward the top await those who dare.
"It all depends on the conditions," said Copa, who picks his descents based on curiosity, far-off views and extensive study sessions on Google Earth.
The whole operation takes lots of understanding about weather and avalanche conditions, great skiing skills and a ton of planning. Done right, Copa said, there still are plenty of first descents available.
"Most of the pro skiers live elsewhere, closer to other mountain ranges, so many of the local mountains are untapped," he said.
His "dedicated core" group is not nearly finished. They haven't even started climbing to ski any of the state's 54 14,000-foot peaks yet. That, Copa said, will have to wait until the freeze-thaw cycle sets in a little more.
With more than enough local lines still unexplored, however, Steamboat's most adventurous skiers are in no hurry.
"We have a list," Copa said about his intended skiing targets. "But the list never ends. It grows faster than we can cross stuff off. : It's still ski season. Just lift-riding season is over."