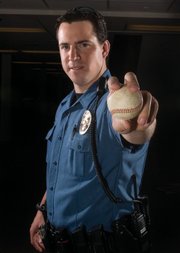 Steamboat Springs — "Yeah, I was in the show. I was in the show for 21 days once - the 21 greatest days of my life. You know, you never handle your luggage in the show, somebody else carries your bags. It was great. You hit white balls for batting practice, the ballparks are like cathedrals, the hotels all have room service, and the women all have long legs and brains." - Kevin Costner, as Crash Davis in "Bull Durham"
There are thousands of players like Crash Davis in the world. Maybe millions.
The guys who twittled around minor league parks, endured never-ending bus trips to ungodly parts of the country and never got their taste of "the show" - the major leagues.
Jeff LaRoche made the show.
It was 2003, and LaRoche was with the Colorado Rockies in spring training. It was his Crash Davis moment. He even references the classic baseball movie when thinking about those days.
"Phew, the big leagues are awesome. It is like 'Bull Durham.' Those were the best days of my life," LaRoche said, reflecting. "It's great. Even (in) Triple A (minor leagues), they take care of you. It was fun. There were a bunch of great guys. I know a bunch of guys still in the big leagues."
But come to think of it, LaRoche said, Double A wasn't too bad, either. Neither were his seasons spent in independent leagues scattered throughout the country. Nor was his one season spent playing in Amsterdam.
No, LaRoche's seven years in professional baseball weren't bad at all.
LaRoche - now an officer with Steamboat Springs Police Department - said playing professional baseball, while grueling sometimes, was and always will be one of the best experiences in his life.
"The grass is always greener. I remember sitting there at a minor league park shagging balls going 'Why can't I just have a regular job?'" LaRoche said. "But you get over here, and I'm like 'Wait a minute, it wasn't so bad.' It was definitely fun. I wouldn't exchange it for anything."
"A good friend of mine used to say, 'This is a very simple game. You throw the ball, you catch the ball, you hit the ball. Sometimes you win, sometimes you lose, sometimes it rains.' Think about that for a while." - Tim Robbins, as Ebby Calvin "Nuke" LaLoosh in "Bull Durham"
In a sense, LaRoche was all but destined to play professional baseball. His last name and baseball are as synonymous as never making the final out of an inning at third base and running on anything with two outs.
Just imagine the family Wiffle ball games.
There was Adam and Andy - now playing first and third base, respectively, for the Pittsburgh Pirates - at the backyard plate. Jeff, armed with a 95 mph fastball from the left side, was on the mound with their father, Dave - winner of 68 career Major League Baseball games - overlooking.
It could be competitive. It could be harsh. But most importantly, it was the breeding ground for one of baseball's most recognizable families.
"Oh yeah, I bounced a few off of Andy and Adam's head," Jeff said. "Dad had a cage in the backyard so we'd play a lot. I pitched to both of them. It was good matchups and really good Wiffle ball."
While Adam and Andy are in the majors now and Dave is the pitching coach for the Toronto Blue Jays Triple A affiliate, the Las Vegas 51s, Jeff isn't so far removed from baseball.
He watches his brothers play as often as possible - admitting watching them is much more nerve-wracking than throwing a 3-2 breaking ball. He still has relationships with tons of major leaguers. He goes hunting with his brothers and takes fishing trips with Boston Red Sox pitcher Brad Penny and Rockies first baseman Todd Helton.
"I played long enough (that) I understand those guys' mentalities," he said. "I'm friends with all of them. I'm one of the boys."
Besides, he grew up around the game. He's played catch in major league parks since he could walk. He used to play handball with Ken Griffey Jr. behind the New York Yankees dugout, the two fooling around while their fathers prepared to play.
"We were just a bunch of kids hanging out," Jeff said. "It was awesome growing up in the baseball field like that."
"You see, there's no guilt in baseball, and it's never boring. ... It's a long season, and you gotta trust. I've tried 'em all, I really have, and the only church that truly feeds the soul, day in, day out, is the Church of Baseball." - Susan Sarandon, as Annie Savoy from "Bull Durham"
Although Jeff is out of baseball in the physical sense, he's not totally away from the game. He got out of the game when getting shuffled through minor league camps became too much. His left arm would get increasingly sore after each outing.
He lived in Vail as a ski patroller for a while. But he wanted to get back into a team setting, so he flipped a coin. One side he was going to be a police officer, the other, a fireman.
He spent the past four years in Glenwood Springs with the police department but missed a real ski resort.
"I'm more of a ski bum now, anyway," he said.
So he came to Steamboat Springs. This season, he helped out with the Steamboat Springs High School baseball team as much as he could. He'd helped coach college players before, but said he really enjoyed coaching at the high school level.
"Jeff brought a lot of respect with him," Steamboat manager Dave Roy said. "The kids automatically respected him because of what he's done in professional baseball. We made it known, his background and family background. A lot of things start when you have good people around. We saw improvement in all the kids. That's where the proof is."
Now Jeff is focused on making the most of his time in Steamboat. It will undoubtedly include some fishing, a couple of celebrity golf tournaments with his brothers and several hunting expeditions.
And of course, there will always be baseball.
"It's been a good ride," Jeff said. "Hopefully it lasts a little longer."