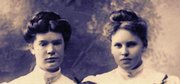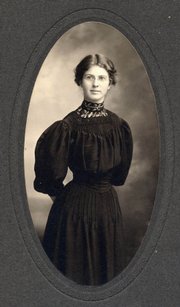 Hayden — The 2009 graduation ceremony at Hayden High School will commemorate not only this year's group of 32 graduates, but also four older alumni.
Much older.
Wolcott Hooker, Gladys Blake, Marabelle Shelton and Ethel Wood crossed a stage at the Congregational Church on May 24, 1909. Clad in violet and white, the four graduating members of the class of 1909 were the first to receive Hayden High School degrees, four years after the school began offering high school classes.
The graduation was held at the church across the street from the two-story wooden schoolhouse because the school had no stage appropriate for the occasion.
Current high school principal Troy Zabel said he would like to commemorate the anniversary with a composite photo similar to the one created for each year's graduating class. Zabel said he also will invite any relatives of that first class - there are several still in Hayden - to the graduation and possibly to an open house at the school later in the summer.
"We definitely will be recognizing the four graduates at the graduation, and we'll announce them at the same time we're announcing our graduates," he said.
The ceremony for Hayden's Class of 2009 graduates is at 2 p.m. May 17.
Jan Leslie, local historian, said the students in the first graduating class were from relatively privileged families. With many smaller school districts spread throughout the valley, parents had to send their children into Hayden and, oftentimes, had to find them a place to live in town if the family farm was too far for a daily commute.
"If they wanted to send kids into Hayden, they had to pay tuition," she said.
Hooker, who went on to earn a law degree, was 21 at the time of his high school graduation, while Wood (later Monson), daughter of the Hugus store manager in Hayden, was 20. Blake (later Hofstetter) was 19, while Shelton (later Enochs) was 18.
Admission to the event cost 25 cents for adults. The ceremony included a violin solo by Harry Wood, a commencement address by Frank Thompson and a mandolin solo by George Day.
The next year had no graduates, meaning this will not be the 100th graduating class, but graduates continued to trickle through the school, with 32 graduates in the first 10 years.
The two-story wooden schoolhouse was on the current site of Red Stone Motel, with the high school on the second floor above the elementary school. It wasn't until 1921 that Hayden Union High School was built, incorporating the surrounding school districts into one school with no additional tuition costs.
The school later was renamed Hayden High School.