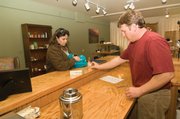 Steamboat Springs — Josh Bodden has been drinking lots of tea.
He's sampled every one of the 77 teas and tisanes at his new shop, The Deep Steep Tea Co. Tisanes are products such as fruit or herbal blends that aren't made from the tea plant, Camellia sinensis, Bodden explained. He's spent a couple of years becoming an expert and opened the shop April 6 downstairs in Old Town Square.
Bodden sells loose tea from all across the world, as well as tea accessories.
"I'm a huge fan of tea," Bodden said. "I don't drink coffee at all, so that's how it came about."
Bodden started drinking loose-leaf teas a couple of years ago. He's lived in Steamboat Springs for seven years, and he ran a day care with his wife, Stacey, before opening The Deep Steep. He had the idea to open a tea shop about a year ago.
"My daughter is going to kindergarten, and I knew that I wanted to do something different," Josh Bodden said. "It just seemed like the right time."
He signed the lease in March and opened April 6, leaving the shop's structure much as it was when Awesome Shirtworks occupied the space. He remodeled a bit and painted, adding a counter and some furniture from the Boddens' house.
The room includes stools and chairs for customers to sit and sip.
"Eventually, I'd like to have double the amount of tea I have," Bodden said.
He has tins of greens, blacks, whites and oolongs from China, Japan, India and elsewhere. Bodden sells tea by the cup or in packets of 50, 100 or 250 grams. A 50-gram bag makes 15 to 20 cups of tea, he said.
Sarah Franklin sells loose tea at The Silver Plume Tea Room in Silver Plume, along Interstate 70 between Silverthorne and Idaho Springs. She serves treats, breakfast and lunch at the spot, which has been open 10 years.
"You just have to be prepared to work hard," Franklin said about the tea business.
The owner also needs to be sociable, she said.
"I think the most important thing is that you love people," Franklin said.
Bodden said he got traffic through advertising and word of mouth. He knows he's not the only tea seller in town.
"I also like a lot of options as well," Bodden said. "I know that there are other places, but they don't have as many."
He said he was pleased with the response so far.
"I think it's going good," Bodden said. "I'm optimistic."