Audio Slideshow
Colorado Mountain College graduation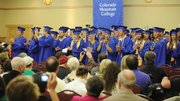 Colorado Mountain College held its graduation ceremony Saturday at the Steamboat Grand Resort Hotel.
More than 60 Colorado Mountain College students flipped their tassels and became graduates Saturday during the Alpine Campus' lively commencement at the Steamboat Grand Resort Hotel. Hundreds of friends and family members packed a hotel ballroom to cheer and whistle as students received associate's degrees in fields including resort management, outdoor education and the arts.
Dr. Peter Perhac, who took the reins as the campus's chief executive officer in December 2008, said he has already gotten to know members of the college's Class of 2009 and is very optimistic about what lies ahead for them, despite a tumbling economy.
"They are bright, enthusiastic and looking toward the future," Perhac said. "It is an extremely talented group."
Steamboat Springs School District Superintendent Shalee Cunningham gave the commencement address at Saturday's ceremony.
She told the graduates her personal life story of becoming pregnant as a teenager and being a young single mother, outcast by her friends and community. But community college embraced her and motivated her to expand her education, Cunningham said. She would go on to earn her doctorate and become an administrator in the field of education. She became Steamboat's superintendent in April 2008.
Assistant Campus Dean of Student Services Brian Hoza read the names of each graduate Saturday, also reading personalized thank-you messages as each student crossed the stage - many to rowdy cheers.
Students used the light-hearted messages to thank everything from Steamboat's Champagne Powder to the Steve Miller Band, President Barack Obama and the National Football League.
But most students focused on parents or other family members, friends, and CMC faculty.
"I'd like to thank Terry Hunter for pointing me in the right direction," Douglass Dorrell, who graduated with a degree in resort management, said of the longtime resort management professor.
Perhac said he has not heard fears about the economy and job market from the graduates.
"They seem to be go-getters," he said. "These are challenging times, and I believe these students will step up to the challenges."
Read about how CMC graduates are facing the challenges of a tough economy on page 1 of Sunday's Steamboat Pilot & Today.