Past Event
Saturday, May 2, 2009, 7 p.m.
Soroco High School, 305 S. Grant St., P.O. Box 158, Oak Creek, CO
Not available / $5 - $8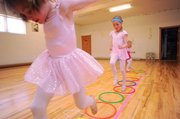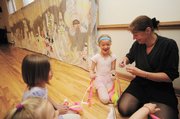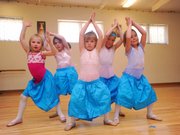 Steamboat Springs — Each year in November, dance instructor Tamara Bereznak reserves the Soroco High School auditorium for a spring concert. The next six months are filled with weekly dancing, bonding and smiling for the South Routt residents who take classes at the Let's Dance studio.
On Tuesday evening, the nine women in Bereznak's ladies jazz class ran through the steps of two dances: a Latin-influenced piece called "Mas Que Nada" and a Michael Jackson-inspired rendition of "Smooth Criminal."
When the curtain goes up on the 16th annual Let's Dance program at 7 p.m. Saturday, those dances - along with 16 other pieces performed by classes ranging in age from preschool to adult - will display the effort Bereznak's students have put in since classes started in September.
"I look at the class when they enroll in September, and then I put a piece to them," Bereznak said. The dances are tailored to the personalities of the people in the class - this year's program includes pieces in a range of styles including jazz, lyrical, hip-hop, pre-ballet, creative and African, she said.
Let's Dance offers classes for children as young as 3 at its Main Street studio in Oak Creek. Trixie Romero, who will perform with the ladies jazz class and the adult tap class Saturday, has been coming to the studio for about five years with her daughters, 13-year-old Brittney and 6-year-old Emily. In that time, Romero - who hadn't danced before joining the studio - said she's overcome the initial nerves of being on stage.
"I remember the first year I was so nervous I thought I was going to puke, and then the second year it was so much fun," Romero said.
At Tuesday's rehearsal, Bereznak reminded the dancers to keep their smiles big and their joy at the forefront through the class's "Smooth Criminal" routine, which includes the side-lean from Jackson's famous music video.
Sixteen years into leading the South Routt dance studio, Bereznak said it's the confidence and enjoyment she sees on stage that drives her to produce the Let's Dance program year after year.
"When you put them on stage and they're in their smiles and they were listening and they're so proud of what they're doing - that's my reward," she said.