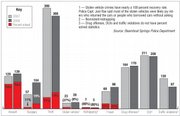 Steamboat Springs — The Steamboat Springs Police Department is holding steady.
The amount of crime reported in Steamboat Springs, the percentage of cases solved each year by police officers and the number of police officers working for the department have all stayed about the same in recent years.
The total number of reportable crimes in Steamboat decreased slightly during the past year, with 2,271 crimes reported in 2007 and 2,116 reported in 2008.
The only remarkable change, based on reports from crime in 2007 and 2008, is an increase in burglaries of more than 80 percent. In 2007, there were 57 burglaries in Steamboat Springs, but that number jumped to 104 in 2008.
Capt. Joel Rae said there is little available explanation.
Of the burglaries in 2008, 30 were forced entry into non-residences, 37 were non-forced entry into residences and 23 were non-forced entry into non-residences.
"A lot of them can be prevented simply by locking your doors," Rae said. The police department has a maximum size of 24 officers, and the department is down one employee as it attempts to fill the position. Rae said that's the same number of officers employed since 1996.
"In terms of the amount of turnover we have here, investing in our officers is of vital importance, especially to the success of solving those crimes," he said. "It's a manpower issue, and it's a prioritization issue."
Rates of other types of crimes reported in Steamboat also are staying about the same year to year. Rae said he cannot blame any crime directly on the economic downturn.
Crimes that usually increase in economic downturns, such as domestic violence, did not change significantly in the last months of 2008, when the recession hit.
Fourteenth Judicial District Attorney Elizabeth Oldham said she and other district attorneys already have braced themselves for a potential increase in economy-related crimes. She said she was not surprised by the increase in burglaries in 2008.
"It was a discussion of : what do we do if we see an increase in crime and we're not going to have an increase in manpower," she said.
There were other factors that boosted the number of burglaries, including a rash of break-ins at Howelsen Hill during construction, when eight Steamboat Springs Parks, Open Space and Recreational Services buildings, vehicles and storage units were burglarized in one month.
Other small crime sprees also appeared throughout the city in 2008, including four residences broken into on West Acres Drive.
Solving crimes
The number of burglary cases cleared by police - by arresting and charging a suspect - stood at 19 percent of reported burglaries in 2008, an increase from 11 percent solved in 2007.
The national average burglary clearance rate in 2007, according to the FBI, was 11.9 percent.
For assaults, police cleared 74 percent of reported cases in 2007 and 2008. That beat the national average of 52.4 percent of aggravated assaults cleared in 2007.
Rae said that as the department prepares for the next year, he hopes to increase the presence of officers in the community by hiring new officers and engaging with the community in more ways.
"We've basically slashed our training budget by incredible amounts, and that's a sacrifice, as well," he said.
In an attempt to hire three new officers, the department is turning to grants as the Steamboat Springs City Council faces increasing cuts to city funding.
Rae said he has successfully used grants to fund other positions in the past and hopes to find money to cover the cost of half of the department's school resource officer - the Steamboat Springs School District pays the other half - and for the new hires.