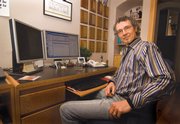 Location-neutral work comes in all forms across Routt County, but the employees and companies share a common denominator. They rely on forces outside the Yampa Valley for their livelihood.
Because they aren't dependent on the local economy, those workers and businesses have different experiences during a downturn than other locals do. However, observers of the economy suggest, they still have a big impact on the way the wheels turn here.
"They are a critical part of our local economy - although they would likely not view themselves as such," Scott Ford said in an e-mail. He studies economic data for Yampa Valley Partners' Community Indicators Project. "Their choice to live here and do business from here has helped the local economy diversify - we are not a 'one-trick-pony.' Their presence has and will help temper the severity of the economic decline that is occurring in the visitor sector of our economy."
Wing-Time President Terry Brown, Hewlett-Packard employee Dale Morris and Deloitte economist Carl Steidtmann offered their takes about the recession and its impacts on the location-neutral industry.
The manufacturer
By and large, the Steamboat economy has little effect on Wing-Time's bank account.
Brown ships his Wing-Time Buffalo Wing Sauce to retailers and restaurants all across the country. When those industries suffer, Wing-Time feels it.
"We saw last year we had a couple of our national stores, our more department-retail type groups versus grocery stores, that went under, filed bankruptcy," Brown said. "So that affected us."
Sometimes, Steamboat-based Wing-Time takes a hit when stores cut back. Kitchenware outlet retailer Le Gourmet Chef dropped most of its food products, including Brown's sauce.
"That's a good example of someone that was just struggling and made some internal decisions from a strategic management standpoint, and we just got caught in the 'X,'" he said. "They brought someone in to cut down the food vendors."
But his business has remained strong in grocery stores and at restaurants. A chicken wing dinner can be $10 to $15 cheaper than other restaurant meals, Brown said. That's helped Wing-Time.
So has the price of chicken, he said.
"This year, things are off to a great roll for us, actually," Brown said. "We're getting some good, steady movement from a lot of our existing customers. I think a lot of that might have to do with the fact that we sell buffalo wing sauce for chicken. Chicken's relatively inexpensive; wings are inexpensive."
And Wing-Time is adding customers, which is a good sign for Brown. Albertsons' Southwest division and Acme Markets have picked up Wing-Time products, he said. Wing-Time also has a new private-label customer, which means the retailer packages Brown's sauce with its own label.
Although the industry is picking up, Brown said he usually could tell from trade publications and talking to others in the business when a customer is circling the drain.
"You get a sense of what's going on usually before it happens because there's usually signs - large companies that usually pay their bills on time, there are some bounced checks," he said.
Regardless, Brown said he hopes customers keep buying.
"People are saying there are things they'll go without," he said. "We're hoping they don't go without us."
The employee
Morris does engineering design work for California-based Hewlett-Packard. He works out of an office in his Steamboat home, where broad windows offer a peek at the edge of Mount Werner. Sixteen patent plaques hang on his wall in four neat rows of four.
The Steamboat economy doesn't pay his bills, but whatever affects Morris' employer affects Morris.
"We're all taking a pay cut as a part of trying to address what's going on in the economy," he said. "That's not any different for me for being remote. It's a pretty broad-based tactic to try to deal with this and to avoid having to lay people off."
Morris and his wife moved to Steamboat in 2000. His H-P superiors still support his working from afar, he said.
"I haven't seen anything with my company withdrawing from the notion of remote work or hunkering down to on-site work," Morris said.
When he started working remotely, he communicated with his bosses constantly about what he was doing. That's no longer necessary, Morris said.
"It would obviously be a factor if the timing were somewhat different or if someone were working like I do and not addressing those concerns," Morris said. "I think they might be nervous in a downturn that the management says, 'What is Joe doing, anyway?'"
In fact, location-neutral workers and people who run their own location-neutral businesses should be talking more to one another, too, he said.
"You do need to network a lot more, and you need to be much more conscious and explicit about maintaining that work and staying in contact with people," Morris said.
And it's not a one-time deal, he said.
"Location-neutral folks : need to work on (networking) all the time, particularly when they don't need to tap into it," Morris said. "Because networking in and of itself is not so much something you do when you need the results. It's more something you do all the time so it will be there when you need the results."
But Morris doesn't miss the office water-cooler chats during this recession.
"I think there's some useful things to discuss among my colleagues and peers about it," he said, "but I think there's a potential for getting caught up in a lot of negative emotion and discussions where you're not really learning more or having the discussions that are going to enable you to make better decisions."
The consultant
Business has been in full swing for Steidtmann. He's elbows-deep in the recession as chief economist for Deloitte Research, a global company, and travels regularly for work.
"As the economy softened in 2008, we certainly saw the direct impact of that on our business," he said. "However : I think the demand for economists' opinions actually goes up when the economy goes down."
Those looking for the light at the end of the tunnel should keep an eye on Steidtmann's calendar.
"I'll be a leading indicator," he half-joked. "When people stop calling me, it will mean the economy is getting better."
Steidtmann's work allows him to offer a wide view of the economy for businesses, location neutral or not.
Energy rules are likely to affect most businesses, he said. The American Recovery and Reinvestment Act of 2009 includes money for renewable energy. That could provide opportunities, Steidtmann said. New energy rules involving carbon dioxide caps and gasoline could increase expenses for businesses - and everyone else who uses energy, he said.
Steidtmann offered this assessment:
"We're still expecting a recovery in the economy by the end of the year. I think in the case of Steamboat, our economy tends to lag the national economy, so we're probably not going to see the effects of that until probably 2010. : We're very much a consumer-dependent economy, and there are a lot of consumer-focused tax cuts. : That should provide some stabilization of consumer spending in retail and help with the sales tax base issue."
Other advantages
Although location-neutral businesses don't lean on locals for support, they give back to the community, Noreen Moore said. She is the business resource director for the Routt County Economic Development Cooperative and a passionate supporter of location-neutral workers.
They often have above-average incomes and spend that money locally, she said.
Also, "perhaps some of these people can hire people who live here and create more career opportunities," Moore said.
On top of that, she and Ford noted that people who choose to work out of the Yampa Valley often come from a variety of industries and high-level positions.
"It brings in people who are very interesting because they are very varied in what they do," Moore said. "We have rocket scientists here. : The range of intellectual or experiential material coming here is an amazing educational opportunity."
Also, Ford said, location-neutral folks often join community organizations and share their expertise.
"They add very, very specific, very colorful, sometimes bright threads to the tapestry we call the community," he said. "And it just makes us better."