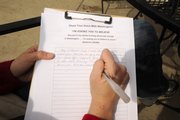 Several local volunteers participated Saturday in an unprecedented campaign remobilization to press support for President Barack Obama's ambitious federal budget.
Obama's vast Campaign for Change apparatus - which established an official office in Steamboat Springs in the fall and organized a visible and well coordinated get-out-the-vote effort in Northwest Colorado - now is an arm of the Democratic National Committee renamed Organizing for America.
Obama's list of supporters and volunteers almost is 14 million names large, according to the Associated Press, and the president is calling on them to use campaign-style methods to pass a $3.6 trillion budget proposal that would make good on several of his promises to voters. The budget proposal also projects a $1.75 trillion deficit this year, the largest in history, and has met resistance in Washington.
"It's an opportunity to get the grass-roots involved and have citizens share their voice," Catherine Carson, Routt County Democrats chairwoman, said about Saturday's canvassing effort.
Volunteers were stationed at book and food stores throughout downtown Steamboat Springs and focused their message on Obama's budget as it relates to energy, health care and education. The volunteers sought signed pledges expressing support for Obama's budget, passed out fliers on the three issues and distributed contact cards for Northwest Colorado's elected representatives in Denver and Washington. The AP reported that one of Obama's strategies is "to try to overwhelm Capitol Hill with phone calls and other direct contact with lawmakers."
The Organizing for America Web site, www.barackobama.com, posted materials for use by such volunteers across the county, including canvassing scripts, the informational fliers, an online Congressional call tool and a training video for Saturday's effort.
Although passing a budget is not as exhilarating as winning an election, local volunteers said Saturday that they were happy to get out and continue their efforts.
"I feel like it's a good follow-up to the campaign work we did," said Jane Toothaker, who had collected about half a dozen pledges by 10:30 a.m. Saturday at the Off the Beaten Path Bookstore. "I think this is a really good way for Barack Obama to continue to get feedback from the grass-roots effort he started with his campaign. : I think the election gave us a chance for change. It didn't actually give us the change. We all have to stay involved in order to make things happen."
At Epilogue Book Co., volunteer Stewart Beall agreed and said he wants "to make sure we actually realize the change we voted for in the election." Beall said he is happy to see Obama turn to his grass-roots supporters after the election, believing most politicians lose touch with constituents when they arrive in Washington.
"That's what I feel, and that's why I'm here today: to make sure things don't fall away," Beall said. "Basically, it's just trying to get people to understand there are people who want change. : I think Barack is such a different sort of leader. : He's maintaining touch with Americans and encouraging them to express their opinions."