Photo Gallery
Bear family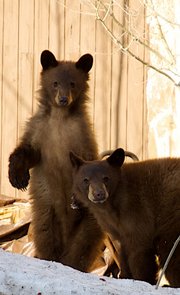 Steamboat Springs resident Scott Hoffner captured these images of a family of three black bears March 18, 2009, near a home off Steamboat Boulevard.
Steamboat Springs — As the local black bear population begins to emerge from hibernation, Colorado Division of Wildlife officials are recruiting volunteers to serve on "Bear Aware" education teams.
Bear Aware volunteers will be asked to help educate residents and visitors about living among bears. Volunteers are needed from the Steamboat Springs area, according to a DOW news release.
Spring officially began last Friday, and some black bears already have been spotted in and around Steamboat. Steamboat resident Scott Hoffner captured more than a dozen photos of a family of black bears near a home off Steamboat Boulevard last week. Hoffner's photos can be seen in a gallery on the left side of this Web page.
Among the list of responsibilities for Bear Aware team volunteers will be providing residents and visitors with information about how to avoid potential conflicts with black bears, including proper trash-handling methods and understanding bear behavior. Volunteers will be asked to help in the spring, summer and fall.
Interested residents will be asked to undergo an interview. If successful, they will receive training from DOW officials on black bear biology, bear behavior, causes of human-bear conflict and methods people can use to reduce conflicts, according to the release.
To request a Bear Aware team application, call Linda Edwards at 970-255-6145 or e-mail linda.edwards@state.co.us. Applications must be completed by March 27. The six-hour Bear Aware volunteer training is April 11 in Steamboat Springs.