By the numbers
Top five states for total number of sheep and lambs as of Jan. 1, 2008:
Texas: 1 million
California: 600,000
Wyoming: 440,000
Colorado: 420,000
South Dakota: 355,000
World sheep inventory:
World: 1 billion
China: 143.8 million
Australia: 98.2 million
India: 59 million
New Zealand: 39.3 million
United Kingdom: 35.7 million
United States: 6.4 million
Canada: 975,600
Source: American Sheep Industry Association
Photo Gallery
Lambing a labor of love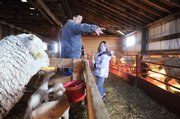 Steamboat Springs — As lambing season approaches, the sight of rambunctious lambs bounding around farms will become common in rural Routt County.
The scene already is unfolding on some Routt County ranches where lambs are on the ground ahead of the traditional lambing season in May. At the Wille Ranch in South Routt County, Rod Wille said his family lambs in February or March because he has the barn space to protect the animals from the weather and because he needs his black-faced meat breeds to mature earlier in the year so he can sell them to 4-H'ers.
On her farm near Hayden, Laurie Hallenbeck said she unintentionally is looking after some early lambs this year because one of her rams got loose early in the fall and was "visiting."
"This is definitely the busiest time of year," said Wille, who was bottle-feeding bum lambs with his 7-year-old daughter Kayla on Tuesday afternoon, 30 minutes after two other lambs were born. "We're always doing something with them."
Wille's lambing season got off to a rough start when the first two lambs were lost during birth. Things have improved, however, and he now hopes that his 75 ewes will produce a total of 140 lambs - 10 short of the 200 percent lamb crop sheep ranchers shoot for. On Wednesday, Hallenbeck said she had been out in the middle of the night spotlighting to turn away coyotes hoping to prey on the newborn lambs. It's something she'll do every three or four hours a night throughout the season.
"It's a 24/7 job," Hallenbeck said. "It's a back-breaker, for sure."
That's in addition to her full-time job at Mountain Valley Bank in Hayden. Wille works as the general manager at Harbert Lumber in Steamboat Springs. Such stories are far from uncommon in Routt County.
"It's more of a part-time job for people," Routt County Extension Agent C.J. Mucklow said. "Everybody I know in the year-round sheep business has a full-time job somewhere else."
Mucklow said that although there used to be several thousand head of sheep in Routt County, there now are only about 2,000 ewes. The last major sheep producer left the county four years ago, Mucklow said, and those who stick with it do it not for economic reasons but for a desire to keep the tradition alive.
"It's definitely a labor of love," said Nancy Mucklow, of Routt County Woolens, "and it's a passion that they have."
Routt County Woolens purchases wool from local sheep to make pillows, blankets and other items, but will not make any purchases this year because it still has wool left over from last year. Instead, local ranchers will rely on the Northwest Colorado Wool Pool in Craig to market their wool in addition to any other smaller sales they make on their own.
The wool pool will take bids on April 22, C.J. Mucklow said. The wool market has yet to be established this year, he said, so it is too soon to say whether the national economic recession will have a negative impact on the $1.20 per clean pound the pool fetched last year.
"Like all commodities, I would guess that it's down from last year," C.J. Mucklow said.
According to the American Sheep Industry Association, there are more than 100 such wool pools across the country "bringing together smaller volumes of wool to improve the marketability of the wool through larger lot size."
Routt County wool is unique compared with most U.S. wool because of the amount of time sheep spend in the snow.
"The wool is some of the cleanest wool in the country," Wille said.
Even so, Routt County producers, like those across the U.S., have a hard time competing with wool products from Australia and New Zealand. C.J. Mucklow said that although a single sheep can, at best, produce about $12 in wool at last year's prices, ranchers can sell a lamb to be slaughtered for about $100.
"The wool is a very small portion of the value of the lamb itself," Mucklow said.
Wille said selling rams is even more profitable. In addition to breeders, Wille supplies a ram every couple of years to Colorado State University to serve as the school's mascot, Cam the Ram.
Overall, however, Wille and Hallenbeck said they aren't building a retirement fund by raising sheep.
"I think it's threatened every day," Wille said. "This has been my passion since I was 10 years old. : We just keep doing it. Some days you wonder why and others it's rewarding."
And, if nothing else, Wille and Hallenbeck said the animals provide more than enough chores to keep their kids out of trouble.
"I think growing up on a farm operation is second to none," Wille said.