Past Event
Friday, March 20, 2009, 6 p.m. to 8 p.m.
,
Not available / $10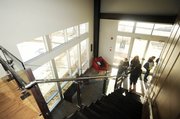 Photo Gallery
Art for So Fly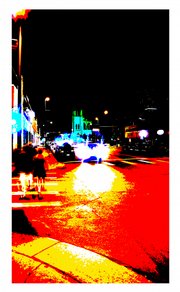 The So Fly fashion show operates on a basic principle: Art has many faces.
"Art isn't just a painting on the wall - it's music; it's fashion; it's flowers," said Barbi Johnston, manager of Kali's Boutique. Kali's is one of 10 local businesses presenting So Fly, a showing of spring fashions from Kali's and Urbane. The event features artwork by Michael Benninghoven, along with flowers by Tall Tulips, makeup by Apothecari, music by Selector Calder Don and drinks from Pioneer Spirits.
"When you think art, people just think drawings and paintings. But makeup, clothing, flowers, architecture, everything together just makes this beautiful canvas," Johnston said.
So Fly is from 6 to 8 p.m. today at Vertical Arts Architecture in Wildhorse Marketplace. Volunteer models will show off about 20 spring outfits from Kali's and about 20 from Urbane.
The idea for a multi-business, multimedia fashion show has been in the works for about six months and really got rolling earlier in the winter. Many of the event organizers knew each other and had worked together on various projects throughout the years, Urbane co-owner Trent Kolste said.
"A lot of us have worked together starting up businesses or have worked together as long as we've known each other," Kolste said. Once things got moving, the collaborations came naturally, said Kimberly Saari, owner of K. Saari Gallery.
"It was kind of amazing because everybody just came together," Saari said. The group chose Benninghoven as a featured artist for his ties to the Steamboat Springs visual arts community and for a style Saari said personifies "the whole urban mountain setting that I think we all are living in."
Benninghoven's "Night" series comes out of a collection of photos he took in Denver. Those photos are digitally altered to contain just a few colors, which Benninghoven applies to vinyl for an oily, sheer finish.
Proceeds to be donated
Organizers knew from the start they wanted to donate part of the event proceeds to a charitable cause, said Urbane co-owner Mel LeBlanc. The event focuses on supporting local businesses, so they decided to donate to a local family.
Rae Steele, a 17-year-old Steamboat Springs high school senior, was hospitalized with Guillain-Barre syndrome in late December. The disorder, which has no known cause or cure, turns the body's immune system against its nervous system; it temporarily left Steele paralyzed and unable to talk.
"We were touched by Rae's story and are all cognizant of what a financial burden the extended time she has had to be in intensive care must be for her family," LeBlanc said. "Out of an amazingly trying situation her strength and perseverance has kept her a happy and gracious girl."
After spending almost two months in the hospital, Steele is recovering and going through physical therapy. Steele has been back in Steamboat for about a week and a half, and plans to be at the So Fly event. Her physical therapy is going well, and being back home with her friends is "definitely awesome," Steele said.
"I'm still in a wheelchair, but I'll hopefully be walking soon. : It just depends on how quick my muscles decide to work," she said.
Part of the ticket proceeds from the event will be donated to Steele's family to assist with medical costs. Amante plans to contribute 20 percent of its sales from the after-party, and the restaurant's servers have offered part of their tips from the night to the cause, organizers said.
Tickets for So Fly are available in advance at K. Saari Gallery, Urbane, Kali's, Pioneer Spirits and Tall Tulips or at the event door.