Past Event
Friday, March 20, 2009, 7 p.m.
United Methodist Church, Eighth and Oak streets, Steamboat Springs
Not available / $5 - $10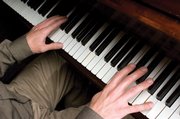 In his arrangement of the jazz standard "Pennies From Heaven," Andy Pratt was going for the kind of rhythm that's heard on the classic Louis Prima Band recording of the song.
It's a sort of quick-paced shuffle - the kind of rhythm that makes sense when you hear it coming from a stand-up bass and drums, but is hard to notate for tuba, clarinet, trumpet and trombone.
But tuba, clarinet, trumpet and trombone are what Pratt has to work with. So on a Wednesday night in mid-March, he introduced the Prima-inspired "Pennies" arrangement this way:
"I've tried to re-create that - we'll see how it works," he said. It did.
Pratt is featured in a Resident Artist Spotlight concert at 7 p.m. today at United Methodist Church. He'll join wind players from the Steamboat Springs Orchestra for about an hour of jazz standards from the 1930s and '40s - arranged, sung and played on piano by Pratt. The concert is presented by Emerald City Opera; ticket proceeds go toward the opera company's scholarship for a graduating high school senior who plans to study voice in college.
With songs such as "'Round Midnight," "Ain't Misbehavin'" and "Is You Is or Is You Ain't (My Baby)" on the concert program, Pratt said he'd like to get into a routine of performing his arrangements publicly.
"I tell people I'm a musician, and they ask where I'm playing, and I'm often doing private events, and this is an opportunity to showcase what I do," he said.
Steamboat audiences who haven't seen Pratt play jazz with the Andy Pratt Trio might recognize him from the We're Not Clowns juggling troupe, or from past "Cabaret" and Pirate Theatre productions.
He writes lyrics and arranges music for the stage productions - those sometimes blue-comedy songs are a little removed from jazz styles, but subject-wise, they're not all that different - and said he'd ultimately like to try composing music for cinema.
That means he'll have to get over the roadblocks he's experienced in getting arrangements started for today's concert.
"For whatever reason, it takes a lot for me to sit down and do it," Pratt said. "I'm always glad to be doing it, and I'm almost always glad of the product, but it's like a writer's block type thing."
By a week and a half before the show, Pratt had finished most of his arrangements, and his wind-powered ensemble - the instrumentation for which was inspired by some old Fats Waller recordings, he said - had an easy handle on a collection of classic songs.
Tickets for the show are $10 for adults and $5 for students and seniors, and are available at the door.