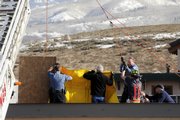 Steamboat Springs — A 49-year-old electrician from Aurora died early Thursday morning after getting stuck in the ventilation system of an unopened Wildhorse Marketplace restaurant.
Police say Micheal Goodspeed and two other workers were spending the night inside Bombay Grill, a new Indian restaurant that was scheduled to hold a private opening party tonight.
The men were hired by the restaurant's owners to finish some work on the building, said Lisa Gill, Bombay Grill's manager and the daughter of the restaurant's owners.
Capt. Bob DelValle, of the Steamboat Springs Police Department, said the three workers went to bars Wednesday evening and became separated. When Goodspeed returned, he apparently was unable to enter the restaurant and tried to climb through a ventilation shaft from the roof into the kitchen.
Police said Goodspeed entered the vent feet-first. Because the vent tapers near its bottom, he became wedged, Routt County Coroner Rob Ryg said. Ryg said an autopsy is planned for today, but it appears Goodspeed died of positional asphyxiation caused by the narrow opening.
"He was really in an awkward position : one arm up and one down," Ryg said. "He couldn't get any traction."
Fellow worker Geraro Portillo said that when he awoke Thursday morning about 8 a.m., he found Goodspeed's feet and legs hanging from a vent opening in the kitchen. Portillo said he ran across the street to Amante Coffee. Amante owner Brent Langevin then called police.
It took Steamboat Springs Fire Rescue workers and police officers about 30 minutes to extricate Goodspeed from the ventilation using a five-pulley system held by a fire truck ladder.
DelValle said witnesses reported seeing Goodspeed outside the restaurant at about midnight, and Ryg estimates he became stuck in the vent about 1 or 2 a.m. Thursday.
The opening date of the restaurant has been delayed, Gill said. The private party now is scheduled for March 29. A public opening is scheduled for the following day.
"We just want to do it : out of respect for the family and for what happened," Gill said.
DelValle said it appears Goodspeed had been in town only a couple of days. DelValle said there is "no good criminal law" against the workers sleeping in the restaurant overnight, although it likely violates city code. Gill said workers do not sleep in the restaurant, but may have been napping as they attempted to complete their work overnight.
Gill said she brought Goodspeed's mother into town this afternoon, and funeral arrangements are pending.