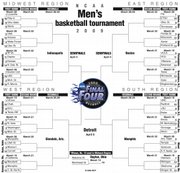 Built for basketball, the Big East is a big hit in March yet again.
Louisville, Pittsburgh and Connecticut helped the league that was created decades ago for hoops become the first conference to earn three No. 1 seeds in the NCAA tournament.
North Carolina, the regular-season Atlantic Coast Conference champion, was the other top seed.
Still, the headlines on Selection Sunday belonged to the Big East, the league that gave us Patrick Ewing and John Thompson, one of the game's biggest upsets (Villanova against Georgetown in 1985) and one of its greatest games (Syracuse against UConn in six overtimes just last week).
The coup of placing three teams on the top line comes 24 years after the Big East became the first league to get three teams in the Final Four - Georgetown, Villanova and St. John's.
So much has changed since then. And so much has stayed the same.
"It speaks volumes for what it means to win the Big East," said Louisville coach Rick Pitino, whose Cardinals are the tournament's overall top seed and will play in the Midwest.
The Cardinals (28-5), winners of the regular-season and conference championships in the nation's top-ranked conference, will open against the winner of an opening-round game Tuesday between Alabama State and Morehead State.
The rest of the tournament starts Thursday and Friday.
The Final Four is scheduled for Ford Field in Detroit on April 4 and 6. Last year, all four No. 1 teams made it to the Final Four. But Pitt (East), Carolina (South) and UConn (West) all know it's called March Madness for a reason - things rarely go to form.
So, time to break out the brackets, sharpen some pencils and pay into an office pool (or two).
Maybe do a little griping here and there.
Among the aggrieved: Duke and Memphis, both overlooked in the quest for top seeding, settling for No. 2 seeds despite winning their conference tournaments. Memphis often is downgraded for playing in the less-than-steller Conference USA, but John Calipari's team proved people wrong last year, making it to the national title game.
"I know people in the city are mad," he said. "That's OK. Good karma, good will."
At least they're in the big show.
Penn State, San Diego State and St. Mary's were among those left out despite some impressive credentials. St. Mary's went 26-6 but lost by 25 to Gonzaga in its conference tournament final.
"I was hoping common sense prevailed," coach Randy Bennett said. "Using common sense, we're one of the top 34 (at-large) teams. This was the best team we've ever had, so it's just disappointing to be in this situation."