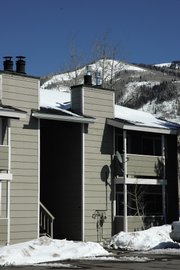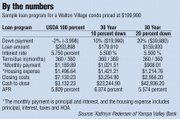 Times have certainly changed in the Routt County real estate market. For an example, look no further than base area condominiums.
The asking price for starter condominiums close to the ski area has dropped by 10 percent, or about $20,000, late this winter. A couple of 565-square-foot Walton Village condominiums have come on the market at just less than $200,000 this month, bringing the number of Walton Village units on the market to nine.
Realtor Cheryl Foote, of Prudential Steamboat Realty, picked up the change and called her client during the weekend.
"I told her if she wants to sell, that's where she needs to be." Foote said.
Foote recently has had two showings on the one-bedroom condo on Walton Creek Road, about 1,000 yards from the Steamboat gondola.
The condo had been priced at $220,000 earlier in the winter with very little interest from prospective buyers.
"That market has been very quiet," Foote said. "I hope this brings out the first-time homebuyer."
Virtually all of the Walton Village units, with the exception of those like Foote's listing in the Omicron Building, are identical. They offer one bedroom and a compact living/dining area. One luxury is that they have either wood-burning or gas fireplaces.
For three decades, Walton Village has served as a common denominator for working singles and couples purchasing their first piece of Steamboat real estate. What the condos lack in living space they make up for with a large swimming pool and luxurious turf lawns by today's standards.
They're old enough to require ongoing maintenance, and the HOA fees are about $270 a month.
All but the units in Omicron were built in 1978. Omicron, six years newer, offers two bathrooms instead of one, and the units are 10 square feet larger than the typical 565. Omicron allows nightly rentals, the others do not.
The entry-level market has changed drastically from June 2007, when there were just 56 condominiums listed for sale in the entire Steamboat Springs Multiple Listing Service. Of those, only 15 were listed at prices less than $500,000.
The least expensive Walton Village on the market this month is one listed by Ken Gold, of ReMax Steamboat, for $189,00. Gold's licensed assistant, Lisa Ruffino, said Gold thinks it's a fair price for the corner unit. It's also comparable to the $189,900 one buyer paid for a Walton Village in November 2006. Other similar condos sold for $185,000 in early summer 2007, just before the asking prices surpassed $200,000 and kept on growing.
Ruffino lived in one of the Walton Village condos and said she was happy there. She still owns the condo and has it rented for $1,000 a month.
"It pays for itself," she said.
Kelly Silva Stahl, Foote's colleague at Prudential Steamboat Realty, said the advantages at Walton Village include proximity to the ski mountain - it's five minutes away via the free city bus - and living in a neighborhood of full-time Steamboat residents. Ruffino added that the small condos have good closet space for permanent residents.
Foote and former colleague Jennifer Fritz listed three modestly priced condos near the ski area in early summer 2007 at prices that ranged from $249,000 to $429,000.
Among the trio was a one-bedroom condo in Walton Village listed at $259,000.
Silva Stahl works with the Walton Village market as a listing Realtor and an owner. She purchased her unit in 2004 for $89,725. She has lived in the unit but currently rents it to tenants.
Silva Stahl put her unit on the market in October 2007 for $262,000 and gradually dropped the price to $229,000 until she withdrew the condo from the market in February 2008.
With the unit leased, she said, she has felt no pressure to put it back on the market.
Scott Wither, of Colorado Group Realty, has a Walton Village listed for $199,900. It first went on the market at $235,000 a year ago. The owner pulled it back because it wasn't getting any showings, Wither said.
At current prices, he said, there are two kinds of Walton Village sellers - those who purchased seven years ago and have built up substantial equity, and those who purchased three or four years ago for $150,000 and really can't afford to sell much lower than $199,900 if they expect to come out ahead.
Whether in a down market or a booming market, Realtors and their clients are trying to stay one step ahead of the crowd, Wither said. In 2006 and 2007, he said, sellers at Walton Village were trying to move their price up in increments of $10,000 or $20,000 from the last sale.
"Now, it's just the opposite," he said. Sellers are trying to keep pace with the latest reduction in asking prices.
Wither and Silva Stahl also are listing two-bedroom Whistler units for sale this spring that could represent a step up for their sellers at Walton Village. The two-story, two-bedroom Whistler units offer more room for young families, and Wither thinks the market has reached a tipping point where it may make more sense to purchase than rent the townhomes.
The asking price for the Whistler townhome is $269,000, and it is rented for $1,350 a month, Wither said. "With current interest rates, it's to that point now that it carries itself" whether someone buys a townhome as an investment or out of a motivation to own rather than rent.
Wither is optimistic that the glimmer of good news on the profitability front from Citibank could be the first in a chain of events that will allow the local market to begin to churn again.