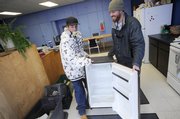 Students describe the Yampa Valley School as a refuge, a second chance, a challenge and, most commonly, as a family.
With 14 students, two teachers and a counselor, the small school hidden in the middle of Steamboat Springs is enabling students who did not appreciate or thrive in normal public high schools to find ways to flourish with self-directed learning.
Slots at the school are coveted - students earned the right to enroll through an application process.
"We're careful about selection. It's not just that the grass is greener over here," said Jane Toothaker, school administrator and director of Northwest Colorado Board of Cooperative Educational Services.
"They have to fit into the culture of the school," teacher P.J. Zenewicz said.
BOCES operates the school for the Routt County public school districts of South Routt, Hayden and Steamboat Springs. There are three spots apiece for Hayden and South Routt and nine available for Steamboat students. Those districts fund the program by paying to BOCES the per-pupil costs they receive from the state for those slots.
Students, often frustrated and considering dropping out of high school, apply to the school with essays about why they would benefit from the school's culture.
That culture includes working independently on projects ranging from bicycle repair and maintenance to the creation of a school store.
"Everyone gets along, and it's a safe place for everyone," said student Scott Baraw. "This is a really good environment to stay focused."
At their old schools, students were placed in programs ranging from special education to gifted and talented. The students said they probably would belong to different cliques at their old schools, but once they were brought together in the same room for class every day, they began to bond.
"The term 'a family' is used a lot, and in a short summary, that's what it is," said Cole Breland, who plans to graduate from YVS this year after enrolling when the school first opened three years ago. "Everyone basically loves each other and knows everything about each other."
Projects
For his current project, Baraw is going to the bank to fill out a mock loan application. The school will provide him a real loan to create a school store. He will be in charge of locking it up at night, selling snacks during the day and paying back the school's loan with interest.
He said real-life applications of his lessons make him more motivated than traditional classrooms.
"I was 16, and I had no reason to come to school any more," he said. During his senior year, he applied to YVS and transferred to the school with sophomore-level credits. Now, after completing his required 24 credits through class time and online coursework, he plans to graduate near the same time he would have at a traditional school.
Baraw said the biggest advantage is how he is treated at the school.
"P.J., I have his number. If I need someone to talk to about anything, maybe if I'm in trouble, I can call him," Baraw said. "You don't get that at a traditional school."
Goals
In its first year, 14 students dropped out of YVS. One teacher died in an avalanche, and the program hadn't found its feet. Since that time, only one student has been asked to leave. That student earned two strikes by breaking a contract he agreed to with the school. Also since that time, three students have graduated, and three more plan to graduate this year.
The school has gained popularity since its inception, enough to create a seven-student waiting list for open slots. Steamboat Springs School District superintendent Shalee Cunningham said there have been very preliminary talks about the possibility of opening a second alternative school to cater to those students, but nothing is decided.
The school's scores on standardized tests, such as the Colorado Standards Assessment Program are regarded as "low," but the school is exempted from normal accountability standards because of its small size. Last year, only two students took the CSAP tests, making averages misleading.
"I care about happy individuals who can make their lives happy after they leave here, where he or she can be confident they can get a job anywhere or go to college or go into the (military) service," Zenewicz.
Dan Juba, the other full-time teacher, said the alternative school model helps the students learn what they want in the way that works best for them.
"It's an opportunity for me to help kids find a way they can be successful in school. We have a lot of freedom in what we teach and how we teach it," he said.
- To reach Zach Fridell, call 871-4208
or e-mail zfridell@steamboatpilot.com