If you go
What: Sixth annual Penguin Plunge, a fundraiser presented by the Healthcare Foundation for the Yampa Valley benefiting Yampa Valley Medical Center
When: Noon March 28
Where: Catamount Ranch & Club
Cost: Each team member must raise at least $100 to jump; free for spectators
Call: 871-2515
How to register
Registration for this year's Penguin Plunge closes Monday. Contact Traci Day-Fenton at the Healthcare Foundation to register a team or be an event sponsor. Registration packets are available by e-mailing penguinplunge@yvm..., by fax at 871-9148, or they can be picked up at the Healthcare Foundation office at 385 Anglers Drive, Suite B.
In the next week, workers at Catamount Ranch & Club will wield chainsaws to cut through the ice on the club swimming pool. As of Friday morning, at least 10 teams were registered to jump into the frigid water below the ice, Day-Fenton said. The event raised $75,000 in 2008.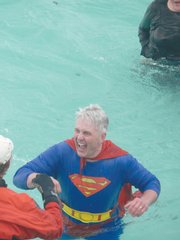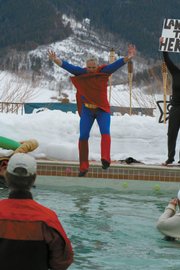 Stan Urban and his Penguin Plunge colony at Land Title Guarantee Co. have been rehearsing their routine for this year's icy jump.
But Urban's not giving any hints about what that routine will be.
"I can't tell you what it is because it's top-secret," he said, hinting at the anticipation and fun-loving spirit that more than a dozen teams put into Penguin Plunge each year.
At noon March 28, Urban's team will unveil its costumed theme for the sixth annual Penguin Plunge. The group also will contribute as much money as it can raise to the Healthcare Foundation for the Yampa Valley, an organization that helps raise money for Yampa Valley Medical Center. Monday is the deadline to register a team for the 2009 event.
As they finalize costumes, music selection and choreography for their pre-plunge skit, members of the Land Title team are bracing themselves for at least 10 seconds of arrestingly cold water.
"It'll take your breath away. When you first hit that water, it is so cold your heart almost kind of seems like it's going to stop," Urban said, remembering one year when he dressed up as Thurston Howell from "Gilligan's Island" and had to walk through the waist-deep water to stay in dignified character.
The plunge is chilly, but it's worth it, Urban said. Proceeds from the event will go toward digital mammography equipment for the diagnostic imaging department at YVMC.
"It's kind of painful, but you feel like you're giving back to the community, and you're helping the community out," Urban said.
How Plunge has grown
Penguin Plunge got its start in 2004 when flight nurse Dave Linner expressed a need for a human patient simulator. The Healthcare Foundation decided to create a fundraiser to make that purchase happen.
That first year, the "penguins" were mostly hospital workers, many of them from the emergency department, said YMVC surgery department employee Laurel Linner. After Dave Linner died in an air ambulance crash in January 2005, the ER department team took the name Dave's Dippers as a tribute, Laurel Linner said about the team dedicated to her husband. The team has dressed as Dippin' Dots ice cream and Oreo cookies - holding to a theme of things that can be dipped.
As the event has grown, its fundraising efforts have broadened from an original focus on emergency and intensive care. Linner said she's been impressed by the community scope of Penguin Plunge.
"Every year, it's gotten bigger and bigger, and it's just amazing how much it's grown," she said.
Need for new technology
Mary Jo Wiedel, director of the YVMC diagnostic imaging department, said it's time to replace the mammography equipment the hospital is using. Proceeds from Penguin Plunge will help fund replacement digital equipment.
"It's more efficient, and the processing time is quicker because we don't have to use film anymore. You get a better evaluation of the images," Wiedel said about digital imaging.
The technology works better for women younger than 50 and women who are active, Wiedel said. The process emits less radiation than film testing, and the images are easier to manipulate and share for better consultation and evaluation, she said.
"It is the perfect equipment to come into this community based on our women in the community and our active lifestyle," Wiedel said, adding that the sooner the equipment can be purchased, the better.
"This would be really good for the women in this community and the surrounding communities," she said. "This is where the technology is, and this is where we need to be."
- To reach Margaret Hair, call 871-4204
or e-mail mhair@steamboatpilot.com