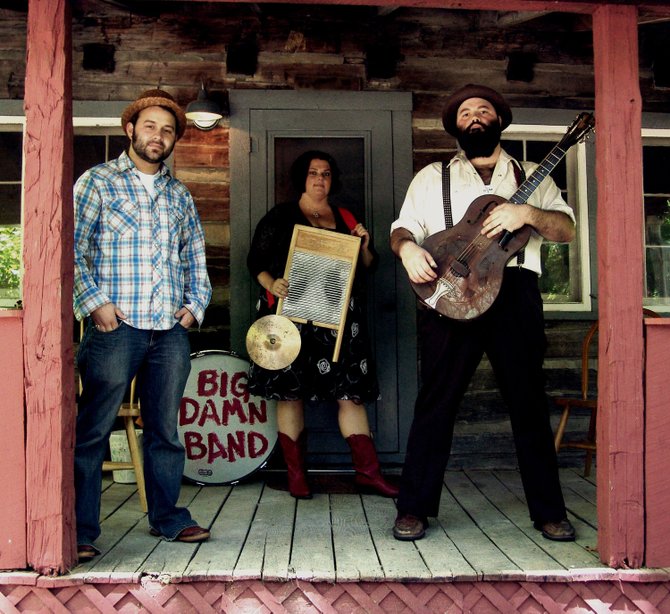 Rev. Peyton preaches what he sees from his big band
Past Event
Saturday, March 14, 2009, 3 p.m.
Gondola Square , 2305 Mount Werner Circle, Steamboat Springs
Not available / Free
On any record by The Reverend Peyton's Big Damn Band, there are parts that sound as if they were laid down 75 years ago.
The frank, observational lyrics, the bending acoustic guitar and scrappy washboard, the canny and country-bred singing style - it all sounds like a throwback. Until you toss in the references to "COPS" or Wal-Mart and the frantic, punk rock-feel that runs through the Rev. Peyton's songs.
The Rev. - or Josh Peyton - gets a big-time sound out of his three-person band, filled out by his brother Jayme on drums and his wife, Breezy, on washboard. The family plays at 3 p.m. Saturday at the base of Steamboat Ski Area as part of the Bud Light Rocks the 'Boat free concert series.
Given the instrumentation and that the band shares a record label with acts such as Flogging Molly, Gogol Bordello and The Mighty Mighty Bosstones, you could say the Big Damn Band can't be classified. The Rev. would disagree - in four full-length records, all the the group has done is play country blues songs about what they know, he said.
The Reverend Peyton talked with 4 Points about making a show an experience, growing up with country blues and singing what he's seen.
4 POINTS: How would you describe your live show?
JOSH "THE REVEREND" PEYTON: Well, I mean, basically it's like this: We believe that as far as our show is concerned : if people want to just hear music, they can listen to a record.
For us, I like to tell stories and we like to have people sing along and we like to make it a show. It's more than just about the music - it's about the experience people get from it.
4 POINTS: How do you give people that experience?
JP: It's a lot of things. We feel, as far as that stuff goes, I don't like to stay in one spot. I like to jump around and kick stuff, and we like to sing with the crowd and we like to have fun with the audience.
4 POINTS: What kind of music would you say the band plays? I would say country blues and then something else, but I can't decide what.
JP: Country blues is what I always say. I think sometimes you might say rural blues - it's essentially just that. : Last night someone said, 'Oh man, it feels like a punk rock show.' And that's not really intentional, necessarily. To me, I feel like we just play straight-up country blues. We put on a show. : It's not about staring at our feet, playing songs.
4 POINTS: You mentioned someone comparing it to a punk rock show. Your record label, SideOneDummy, carries a lot of punk rock bands. How did you end up with them?
JP: There's an awesome band called Flogging Molly, and they saw us play at a festival one time and watched our show and got into the music. We became friends through that, and they said, 'We want you to come out on tour.' And I thought they were just being nice - it turns out they were being serious.
We did three shows, and it just killed. All said and done, we've done 45, 46 shows with Flogging Molly now.
During that time, the SideOneDummy fellows came out to check out our show, and at the show they said, 'Hey, are we going to make a record, or what?' I just like that frankness and honesty, and I think we fit in over there.
I like to think that Flogging Molly does with Celtic music what we do with country music. They play a show and kick it up and play with heart. They've got songs about family and they've got songs that are really serious and they've got fun songs. And, to me, that's what music is all about.
Me, I write songs about everything that I feel like writing about. It could be about fishing, or it could be about food, or it could be about the world, or it could be about anything.
4 POINTS: How do you write a song?
JP: (Some songwriters) make up a story or they make up something, but I just feel like a song is better - at least for me - playing it and singing it if I really lived it and I really saw it with my own eyes. I think it feels more from the heart that way.
There's so much music that's just about image and is just about people trying to fit in with what some magazine said they should be. And I want to be just the opposite of that.
4 POINTS: What are some examples of that kind of song?
JP: (About the song "Your Cousin's on COPS") Breezy's (band member Breezy Petyon) cousin was on 'COPS.' That's not like some thing we thought would be cool to write about - I can think of a much better story if I try. But with all these reality shows : they're just making TV with regular people.
I know it's kind of silly, too, but it's kind of serious when you think about what that does to people to see a relative on TV that way.
4 POINTS: When did you get interested in playing country blues?
JP: I grew up playing blues, basically. My dad taught me how to play, and I was always into sort of older music.
I was talking to our tour manager today about how I think there's not enough melody in modern music. I like melody and rhythm, and country blues is as bare bones as you get - it's just melody and rhythm.