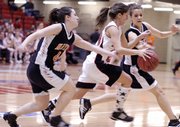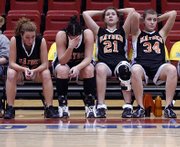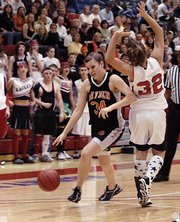 Game statistics
Paonia 48, Hayden 33
Hayden - 4-8-7-13 - 33
Paonia 4-12-15-15 - 48
Hayden - Koehler 1 1-2 3, Salazar 5 0-0 10, Cromie 0 2-2 2, Mahanna 2 1-2 5,
Sweetser 3 0-0 8, Harris 2 0-0 4. Totals 13 4-6 33.
Paonia - Ja.Reed 0 5-10 5, Jo.Reed 1 0-0 2, Pipher 2 0-2 4, Hinton 1 0-2 3,
Campbell 0 1-2 1, Rienks 7 0-1 16, Fransworth 1 0-0 2, Venard 5 1-3 11.
Totals 17 7-20 48.
3-pointers: Hayden (2) - Sweetser 2. Paonia (2) - Rienks 2.
Hayden girls basketball, 2008-09
Hayden basketball coach Eric Hamilton said his team would need to play better in Friday's Class 2A state tournament semifinal than it did Thursday in an opening round win.
The Tigers did not play better, and the effort wasn't enough against the No. 2 seed in the eight-team tournament. Paonia cast Hayden to the consolation game of the state tournament Friday, winning, 48-33.
"We'll be ready. We want to have some fun and go out and win third place," Hamilton said. "I hope the girls remember what an honor it is to be here in the first place.
"They are sad now, but they'll be back for the next game."
Hayden will face familiar foe Meeker in the third-place game, which starts at 3:30 p.m. today in Pueblo's Massari Arena, dueling the Cowboys for the fourth time this season.
Again, the Tigers may need to find a way to improve. Hayden won each of the first two meetings, but Meeker won the third in a rout, 70-43, in the district tournament.
Tops on the list for things to improve is the press break.
Paonia blew open a low-scoring, close game by trapping Hayden's players and forcing seemingly endless turnovers.
That, combined with a series of fouls and the Eagles dominance on the boards, spurred a disastrous third quarter for the Tigers.
The game was tied, 4-4, after the first quarter and was close - 16-12 - at halftime. Hayden picked up three consecutive fouls midway through the third quarter and managed to get the ball across half court just once during that streak. Hayden senior Caitlin Mahanna banked a shot in off the glass, making it 19-16, and the score momentary stayed close. But that offensive possession proved to be the exception. The rule was Paonia's man-to-man full-court press and fierce rebounding.
Hayden picked up two more fouls, and Paonia scored six quick points off of offensive rebounds and seven off of turnovers.
"We frustrated them with our full-court, man-to-man denial," Paonia coach Scott Rienks said. "Then, we hit some shots and got a little bit of a lead."
The Tigers, meanwhile, called two timeouts in less than a minute and managed just one basket to match Paonia's 13 points.
The game had been within two after Hayden senior Holli Salazar scored to open the third quarter. Eight minutes later, the team trailed Paonia by 12, and its state championship dreams lay in ruins.
"That press just got to us," Hamilton said. "We didn't take care of the ball, and they just kept coming at us strong."
The press seemed to wear the Tigers down. They managed the pressure much better in the first half. While it was a struggle throughout the game to find open shots, Hayden stepped up on defense and kept the game close.
Senior Kylee Sweetser nailed 3-pointers on back-to-back possessions early in the second quarter, and Rachael Koehler scored late in the half to keep it close.
That composure was gone after the break, however, and Hayden was helpless to catch up as Paonia continued to extend the lead.
"We got overwhelmed by that pressure," Hamilton said. "I have to give credit to Paonia. That is one heck of a press. We didn't play that bad, but we couldn't get many good shots. "Paonia was just too aggressive."
- To reach Joel Reichenberger, call 871-4253 or e-mail jreichenberger@steamboatpilot.com