Document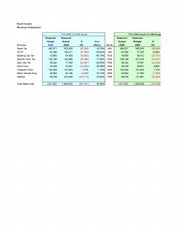 Steamboat Springs — Faced with a projected $4.9 million deficit in 2009, Routt County government officials are considering laying off 30 full-time employees and reducing the remainder of its personnel costs by 10 percent through pay cuts and furloughs.
County Manager Tom Sullivan outlined these and other proposed savings
in an e-mail sent to county employees Thursday evening but said no official decisions have been made and won't be made until May at the earliest.
Except for a $1,779 increase in treasurer fees, county revenues decreased dramatically in every category in January and February compared with 2008. The county's interest income decreased $323,710, or 76.5 percent - from $422,949 in 2008 to $99,239 this year. Building-use tax collections were down $35,803, or 65.7 percent, from $54,458 to $18,655. January sales tax collections decreased $92,948, or 16.8 percent, from $553,526 to $460,578. February sales tax figures are not available.
"We didn't do so well," Finance Director Dan Strnad said. "Hopefully it will get better, but I don't know."
Despite budgeting for a 21 percent decrease in revenue in its 2009 adopted budget, projections show the county still faces a $2.2 million shortfall when January and February revenues are projected during the course of the year and compared to the 2009 budget. Combined with its planned use of $2.7 million from reserves, the total 2009 deficit now is projected to be $4.9 million.
"We'll have to do some pay cuts, have to do some furloughs," Sullivan said. "We won't be making any final decisions until sometime in May. : The (Routt County Board of) Commissioners will use their minds, as well as their hearts, in making these cuts."
In his e-mail, Sullivan outlined saving $5 million in 2009. Proposed cuts include $300,000 in departments' operational budgets, $1.2 million by discontinuing asphalt overlays on county roads and replacing them with chip sealing over the next 10 years, $1.5 million through personnel pay reductions or furloughs, and $2 million through layoffs of 30 full-time-equivalent positions.
Road and Bridge Director Paul Draper said he was concerned that discontinuing asphalt overlays could result in higher labor costs because of an increase in maintenance work that will be required. Other county department leaders said Friday that employees were concerned by Sullivan's e-mail but not surprised.
"They are very concerned, of course. They don't know who the 30 people are going to be if there are going to be 30 people," Sheriff Gary Wall said. "It's concerning to everybody, but the county is in a financial crisis, so I think people understand."
Despite the bad news, Building and Plant Director Tim Winter said employees he has spoken with appreciated the heads up.
"I've had at least some of my staff who were thankful for the view of what was going on so they know what to anticipate," Winter said. "People have been thinking about this, and, as managers, we're trying to figure out the best way to deal with it."