Photo Gallery
Hayden girls basketball against Sanford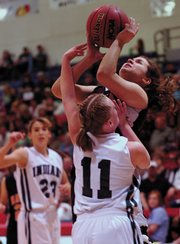 Twitter game updates
Get in-game scoring updates from today's Hayden vs. Paonia contest by following steamboatpilot on Twitter. Sign up for a free account at
Twitter.com
, and then to a people search for "steamboatpilot." Click "follow" steamboatpilot to get updates on your computer or your cell phone.
Hayden girls basketball, 2008-09
A strong class of seniors may have paved the way for the Hayden High School girls basketball team's first trip to state, but it was a group of underclassman that helped the team stay there.
Hayden found points in unique places Thursday, and it needed nearly every one of them as the sixth-seeded Tigers upset No. 3-seed Sanford, 41-30, in the first round of the Class 2A girls state basketball tournament in Pueblo.
The win bumped Hayden into the state semifinals, where they'll likely face No. 2 Paonia at 8:30 p.m. today in Pueblo's Massari Arena.
"One down," senior Kylee Sweetser said. "Two to go."
Sweetser and Holli Salazar led the team - as they have all season - finishing with nine points apiece. But it was sophomore Delaine VeDepo's six consecutive free throws in the waning moments that iced the win and put the clamps on what had been a serious comeback bid by Sanford.
The Indians didn't score their first basket until 15 seconds remained in the first quarter. Hayden extended its lead to 13 when Sweeter sank a free throw early in the second to make it 15-2.
Sanford came storming back, however. What had been a series of long, patient Hayden possessions turned quickly into a spat of turnovers as Sanford's defense tightened.
The fat lead melted away to nothing when Indian junior Kortney Faucette scored to open the fourth quarter, tying the game at 25. Sanford went ahead by two moments later as Hayden continued to try to force passes to covered teammates in its half-court offense.
"We started getting frustrated," Salazar said. "We got mad about how we were playing and it was downhill from there.
"When we got behind, we knew we had to play harder. We knew we had to cut down the turnovers."
Sanford never was able to expand upon that small advantage, and the well-paced, sharp-shooting Tigers of the first quarter returned just in time.
At its best, Hayden worked through long possessions. The persistence continually paid off in easy baskets. Sophomore guard Kyra Rolando scored two easy shots in the first half when a series of passes eventually found her wide-open two feet from the basket.
That same cool-headed approach helped the team in the game's final moments.
Salazar, just before picking up her fifth foul, sank two free throws to put Hayden back in front, 29-27. Jarah Woodley also made two free throws. VeDepo poured in six and Caitlin Mahanna added two more as time ran out.
"I tried not to think about it," VeDepo said, remembering standing on the free throw line with so much at stake.
She had struggled from the line all season.
"I'm usually not very good in games. I over-think things and it usually doesn't work out," she said. "Coach has been working a lot with me on that, and it paid off.
"It's great to have a team that's strong through and through. That showed tonight. That's why we're here."
Sanford, meanwhile, only scored three points after taking their only lead of the game. It wasn't enough to deny Hayden its first state tournament victory and a crack at redeeming its only regular-season defeat.
The Tigers lost at home to Paonia, 54-49. That game eventually gave the Eagles the Western Slope League championship and the top seed in the district tournament.
"We want that rematch," Mahanna said. "We know we can beat them."
Meeker advances
The Western Slope League was well represented in the first round of the Class 2A girls state basketball tournament.
Meeker joined Hayden in advancing to the state semifinals, defeating Burlington in the tournament's first game.
No. 1 seed and defending state champion Wray also won Thursday. Wray and Meeker face off today at 5:30 p.m. The winner will play the Hayden-Paonia winner Saturday at 7 p.m. in the state championship.