For more
Matt Graves' artist portfolio for the Artists' Gallery of Steamboat is available online. As a member of Artists' Gallery, Graves' work is on display there during the venue's operating hours.
Photo Gallery
Matt Graves' wood art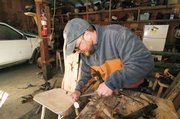 Matt Graves has always wanted to make something out of nothing.
It's a goal that's motivated the carpenter to use natural logs to make furniture, pairing organic bends with classic joinery. It also inspired him to use salvaged, beetle-kill wood in artistic sculptures.
"It's like making beautiful art or beautiful furniture out of what 99 out of 100 people would call firewood," Graves said. After 25 years of working with it, it's hard for Graves to designate any kind of wood as trash. And it's close to impossible for him not to find some use for the material.
In the past year, one of those uses has been making work for the Artists' Gallery of Steamboat. Graves became a full member of the cooperative gallery in December.
"I'm young to this, and I'm new to it, so I'm not going to run around and wave my arms and say, 'I'm an artist! I'm an artist!' But : I want to make things that feel new and feel fresh and unique," he said.
Graves' family moved to Routt County in the late 1970s to homestead by the Elk River. A young Graves was helping out on his father's job site - moving boards and doing occasional sanding - by the time he was 7. By junior high school, he was doing siding work and other projects around the house. A few years later, he started making furniture.
Living outside of town, he got used to searching the woods for firewood, often with a chainsaw in hand.
"That's how I got submersed in scavenging wood and getting acquainted with the natural aspects of the log," he said.
When the Artists' Gallery invited Graves to participate in a guest woodworker show in June 2008, he saw a chance to experiment with the techniques he already knew and make a few sculptures. In the month leading up to the show, he made a large-scale sculpture called "Sandhill Twist" that's still on display at the gallery and a beetle-kill three-dimensional fish that sold earlier this week.
"I wanted to take the natural curves of the wood, and I wanted to contrast them by squaring them within their own styles," he said about "Sandhill." "There's no limit to what you can accomplish with the natural bends of the wood."
Now that Graves has access to an art gallery, he's looking to take some of his work in a more radical direction. That could include more sculptures, and it definitely will include producing furniture for his company, Handstruck Woodworks.
"I want to be able to work in all parts of the spectrum. I want to be able to work in classic joinery and classic styles, but at the same time incorporate more radical aspects of possibilities and organic nature," Graves said.
"At the same time, it doesn't stop - you can go into more radical colors or more radical materials. When you get into the world of art, you get into a world with no limits, which, to me, is exciting."
For now, Graves is devoting much of his time to building an Old Town art studio for himself and his wife, bronze sculptor and Artists' Gallery member Sandy P. Graves, and caring for their two young sons.
As Matt Graves moves forward with art, he plans to take advantage of the skill set he's built since grade school.
"I don't want to abandon craftsmanship and experience," he said. "I want to use my carpentry in art and take it to abstract levels, and also just to a unique and attractive level."