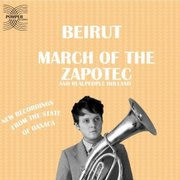 With each record he releases, Zach Condon - who performs baroque pop through a gypsy filter as Beirut - immerses himself in a new sound and culture.
For "March of the Zapotec," he lived in Mexico and recorded with a local marching band, shifting easily from funeral dirges to junky road songs.
For "Holland" - recorded under his former band name Realpeople - Condon reaches into a Magnetic Fields-inspired style of eerie pop songwriting. His warbling vocals set the songs off ease, but they also make them memorable.
Looking at all that, it wouldn't be unreasonable to label Beirut as some kid from New Mexico who has become pretentiously enamored of world music. But Beirut's songs don't sound like world music. With lyrics that hold to Condon's personal songwriting style, these tracks are regular songs set in an unfamiliar landscape.
"March of the Zapotec" is the bigger and better risk of the two EPs packaged together here, with "La Llorona" and "The Shrew" anchoring its six songs. There's an unapologetic sadness to "Zapotec" - and to everything Beirut records - that makes it feel sincere, even when it's hard to tell what Condon is talking about.
Rating: '''