Document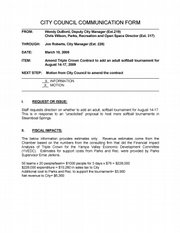 Steamboat Springs — Triple Crown Sports hopes to block a competitor's entry into Steamboat Springs with a proposal to hold a men's softball tournament here on the same mid-August weekend eyed by the World Softball League.
The proposal comes just a year after Triple Crown Sports announced it was canceling softball events in Steamboat and nationwide for economic reasons. Two Steamboat Springs City Council members said Wednesday that if the city decided to add a softball tournament this summer, they would lean toward sticking with Triple Crown, a company the city has been working with for three decades.
"It probably would make more sense to deal with a known entity rather than an unknown entity," City Council President Loui Antonucci said.
City employees also have expressed a preference for Triple Crown so they do not have to spend time and resources researching a new company. Phillip Small, western regional director for WSL and formerly of Triple Crown, said the city should "expand (its) horizons rather than put all (its) eggs in one basket." Small also said WSL can do a better job showcasing Steamboat because it owns its own TV production company that produces a national television series highlighting weekly softball play and the locations of tournaments.
The proposals are competing at a time when officials and residents have a new openness - because of the national recession and declining sales-tax revenues - to men's softball events that could introduce tourists and dollars to the local economy.
Years ago, softball players gave Triple Crown Sports a raucous reputation, and the city asked the company to move toward more family-oriented youth tournaments. Adult softball was drawn down to just one weekend of Triple Crown's 10-week schedule in Steamboat before it ultimately was eliminated last year.
Double play
Earlier this year, the city received an unsolicited bid from the World Softball League to hold a men's slow-pitch softball tournament in Steamboat during a mid-August weekend. The city did not reject the proposal but hoped to negotiate an event smaller than the 150-team tournament proposed by WSL.
The courtship caught the eye of Triple Crown President Dave King. In deciding to eliminate softball last year, King said that in addition to a contraction of the slow-pitch softball market, the sport also was creating a roadblock in negotiations with the city.
"We just thought we'd make one fell swoop move," King said. "It was easier at that time to say we're done across the board. : I think the sentiment has changed in Steamboat. : The door got opened back up by the city."
King's proposal is to host a tournament of about 50 to 60 teams that could be accommodated without using fields in Hayden or Craig on the weekend of Aug. 14. He said that while softball no longer makes sense for his company on a national level, the company could cost-effectively hold one annual tournament in Steamboat without increasing staff.
Small, who said he lost his job at Triple Crown when the company cut men's softball, questions King's long-term commitment to the sport.
"The World Softball League is all about adult softball. That's all we've ever been about," Small said. "World Softball League is committed to adult softball in the long run."
Councilman Jon Quinn said that his most important consideration is to maintain a good relationship with Triple Crown but that the city will seriously evaluate all its options.
"At the end of the day, this is a business decision as much as something the community should weigh in on," Quinn said, noting King has entertained offers to hold his tournaments in other communities. "They've looked at other options. I think we'd be fools not to look at other options."
Antonucci stressed that City Council still needs to decide whether it wants to add a softball tournament this summer at all, before it considers which company to go with. Antonucci expects council to hold a public meeting on the subject in April.