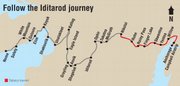 Steamboat Springs — Oak Creek resident Tom Thurston and his team of dogs made the 80-mile trip from Rohn to Nikolai in less than 17 hours across the Alaskan landscape.
Thurston left Rohn at about 6 p.m. Tuesday and arrived in Nikolai at 11:01 a.m. Wednesday, Alaskan time.
The distance between the two checkpoints often is considered some of the toughest terrain in the Iditarod dogsled race, with mushers often advised to do the first part in the daylight or with other mushers who have done the stretch before.
Thurston is in 54th place as he prepares for the next stage from Nikolai to McGrath. The stage is described as "fairly easy but sometimes deceptive." Most mushers will complete the 54-mile stretch in four to seven hours. It's a stage mushers are encouraged to do at night when their dogs will be able to run faster.
In the day, the stretch can get very cold because of the many open lakes and swamps it passes in the first 20 miles.
Check with steamboatpilot.com for continued updates on Thurston.