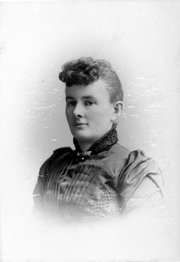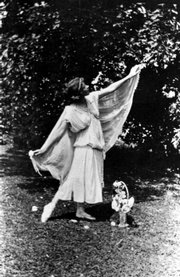 If you go
What: "Lovely Local Ladies" presentation of character monologues of famous women from Steamboat Springs history
When: Noon and 5:30 p.m. today
Where: Tread of Pioneers Museum, corner of Eighth and Oak streets
Cost: Free
Steamboat Springs — Olympian Caroline Lalive will join Charlotte Perry, Portia Mansfield and Margaret Crawford as centerpieces of presentations today at the Tread of Pioneers Museum.
Lalive, however, is the only member of the group born after 1900.
Tread of Pioneers is hosting a series of monologues by famous women in the Yampa Valley as a part of its "Lovely Local Ladies" presentation for the public and school children, written and performed by local actresses and museum staff.
For the first time in the annual tradition, the group also will include a contemporary woman who has contributed to the valley, said Museum Director Candice Lombardo.
Lalive will share her experiences in competitive ski racing, a career she describes as "not one of incredible success : more of pushing through difficulties, injuries, frustrations and ultimately the learning process."
Lalive will open the presentation by telling about her experiences living and training in Steamboat Springs. Lombardo said Lalive fits into the program because of her spirit and ties to the area.
"They exemplify the spirit and beauty of the Yampa Valley," Lombardo said about the event's cast." They are very independent and free-spirited women."
Lalive was added to the group this year because of her role "contributing to the community as a mentor," Lombardo said. Lalive said she would like to stay in Steamboat.
"There's something that's truly unique and magical about Steamboat," she said. "Steamboat is always a constant in my life and has been for the past 15 years. I would love to live here and raise my family here."
Monologues for other characters, including museum founder Dorothy Wither and author Rita Williams, were created to showcase the famous women in the community.
Williams, who was also born well after 1900, wrote "If the Creek Don't Rise," a memoir released in 2007 about growing up in the Strawberry Park area with her aunt, Daisy Anderson, the last surviving African American widow of a Union soldier.
Perry and Mansfield formed their namesake performing arts camp, while Crawford was the wife of city founder James Crawford.
The hour-long presentation is at noon and 5:30 p.m. today at the museum and free to the public. The museum also will host a 4:30 p.m. presentation for students in the city's after-school program.
All of the monologues, except Wither's, were created new this year to commemorate Women's History Month, which is this month.