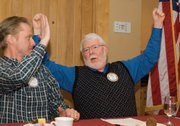 Steamboat Springs — A round of cheers and applause rose from the crowd each time a Rotary member answered a question correctly during the lunch meeting of the Steamboat Springs Rotary Club on Tuesday.
The country that holds Angel Falls? Rotarian Dan Hagney knew Venezuela is the place. Willy Loman's athletic, favorite son in "Death of a Salesman?" Rotary President Mike Forney recalled Biff's name.
The mixed teams of Rotary members and high school students successfully answered 22 of the 36 questions posed by Knowledge Bowl coach Barb Tuchlinsky during an exhibition round, with Rotarians calling out six of the right answers.
Six might not seem like a lot, but compared to last year's performance - when students competed against the Rotarians and held them to three correct answers - this was a relief, Forney said.
"It wasn't as bad as I thought it was going to be," he said. "It was a lot of fun."
The Rotarians were matched with the Steamboat Springs High School team after the students had a dominating win at the regional meet March 6. There, the Steamboat team scored 115 points, well ahead of the nearest competitor, Middle Park, who managed 89 points.
The Steamboat students came out strong in that competition, answering 10 of the first 11 questions correctly and holding onto the lead throughout.
The squad advances to the state meet April 16 and 17, where it will face 12 to 15 similarly sized schools in preliminary rounds. If the team can advance past those teams, the top three schools of any size will face off for the state title.
Senior Anna Roder led the squad with 10 correct answers out of the 50 asked. She correctly named the Deccan Plateau - in India between the Eastern and Western Ghats - and the Jungian archetype of Puck, a character from Shakespeare's "A Midsummer Night's Dream," to help the squad score the win.
"I think I have a feeling of when to buzz in. That's the trick," Roder said.
The team won the regional meet without star player Charlie Stoddard, who graduated in January and is studying at the University of Colorado in Boulder.
Senior Sean Fairlie said the math questions were the trickiest without Stoddard.
"Charlie was one of the best in the state in math," Fairlie said. "I was surprised we did that well, honestly, because the team we beat had beaten us last time by two points."
The Middle Park team beat the Steamboat squad 93-91 in Steamboat's Feb. 6 home meet.
The Knowledge Bowl team also received a $500 donation from Rotary to help send them to state.