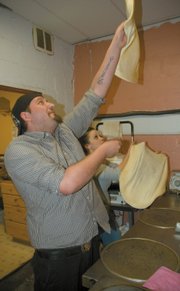 Hayden — Stacy Magee planned to take time off from work to enjoy her son's senior year of high school. Instead, she and her husband bought a restaurant.
Stacy and Trea Magee took over Wolf Mountain Pizza in Hayden on March 1. It was a change of pace for Stacy Magee, who has been a nurse for nearly 20 years. But Magee loves the restaurant world and has waited tables on the side during her career.
"I love the people, just the customer service and the interaction," said Stacy Magee, who moved to Hayden from Oxford, Miss., with her family seven years ago.
She's handling the restaurant management. Trea Magee works for the Yampa Valley Electric Association, though his wife said he planned to help at Wolf Mountain. The couple bought the restaurant from Ross and Tracey Barnhardt, who opened it in May 2004.
"I have two small children, 6 and 2, and it was a good time to sell," Tracey Barnhardt said. "I need to be home with my children. Even if I wasn't working, I was always thinking about the business."
Barnhardt said she was glad to sell to someone as enthusiastic as Stacy Magee, and the women assured the public that the food wouldn't change.
But Stacy Magee has tweaked the menu. She added chicken tenders, homemade desserts, twice-a-week soup specials and a Southern classic: sweet tea.
"Dana makes fun of me because every time someone orders sweet tea, I clap," Magee said, referring to employee Dana Wheelock.
"The first couple of times, it scared me to death," Wheelock said with a laugh.
Magee is trying to keep her hands quiet - with limited success. Her other changes to the restaurant include booth seating for 14 to 16, a fresh paint job, high-definition TV and free wireless Internet. Magee said she wanted to provide more seating for hunters, Triple Crown visitors and other patrons.
Wheelock is pleased with the new Wolf Mountain. She's worked there for three years, and her son Zack also works there.
"At lunchtime today, people were able to sit down, which was nice," Wheelock said Monday afternoon. "And the look on people's faces when they walk in the door is just totally awesome."
The Magees have hit a few snags, Stacy said. Her mixer broke a few days ago, so the staff is mixing dough and sauce by hand every day. Magee doesn't seem to mind, though.
"I love to cook," she said. "I wouldn't imagine I'd have this much fun making pizza sauce, but I love it."
The Magees have three children. Lacey is in nursing school in Mississippi, Jake is a Hayden High School senior and Judd is 10. Lacey Magee might come help with Wolf Mountain during summer, and Judd sometimes lends a hand, Stacy Magee said.
"Jake just wants to come in and eat," she joked.
Stacy Magee has kept most of the employees, and they've made the ownership transition smooth, she said. The crew includes a few high school students. She would like to cater to that age group.
"The kids in Hayden don't have a lot to do, so I'd just love to have them come in and sit down, eat pizza and wings and watch the game," Magee said.
Magee said she was happy in the restaurant business.
"I feel like it's what I'm supposed to do," Magee said.