Commissioners approve traffic code, all-mail-ballot election
Fines to boost government funds
Wednesday, March 11, 2009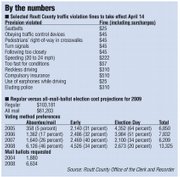 Document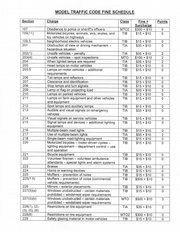 Steamboat Springs — The Routt County Board of Commissioners gave final approval Tuesday to a Sheriff's Office request to implement the Colorado Model Traffic Code, which will increase traffic violation fines and county coffers.
Routt County Sheriff Gary Wall said he is not sure how much money the switch is estimated to generate for the county but that adoption of the code allows money that now goes to the state to go to the county's general fund instead. Tickets issued on state highways will still be paid to the state.
"This is an advantageous thing for us to do," Wall said. "It allows us to collect more revenue and come up with fines we think are appropriate."
The code increases some traffic violation fines in Routt County by as much as three times, and all fines will be subject to a $10 victim assistance surcharge and speeding violations will be subject to a $12 Colorado Traumatic Brain Injury Trust Fund surcharge.
For example, driving 10 to 19 miles above the posted speed limit in Routt County will carry a $72 fine, increased from $50. Assistant County Attorney Joanne Eldridge said the ordinance approved Tuesday will go into effect April 14. Routt County is excepting itself from some provisions of the state code, such as those pertaining to chain laws and impounds. The Colorado Model Traffic Code was created to standardize laws and penalties throughout the state.
All-mail-ballot election
Also Tuesday, county commissioners approved Routt County Clerk & Recorder Kay Weinland's request to hold an all-mail-ballot election in 2009. Weinland has said such an election - as opposed to one that also offers early voting and voting on Election Day proper - is much easier for her office to carry out and could save the county about $40,000 this year.
Mail ballots have surged in popularity in recent years. Forty-six percent of county voters chose absentee and mail voting options in 2008. Requests for mail ballots increased by 4,754 in 2008 compared with the previous presidential election in 2004.
"We have determined that there is the desire by the public to have more and more ballots by mail," Weinland said. "That, in addition to the cost savings, make it a good time" to do this.
Last month, a citizens election committee gave its unanimous blessing to an all-mail-ballot election in 2009. Committee member Catherine Carson noted it came with a stated desire to see more drop-off locations for ballots - including some that would be available after hours - so people wouldn't have to rely on the Post Office.
The resolution approved Tuesday cites the committee's recommendation, the increase in mail voting popularity and states that mail elections do not result in increased voter fraud. Weinland's plan for the 2009 election also must be approved by the Colorado Secretary of State's Office.