If you go
What: Public welcome reception for new City Manager Jon Roberts
When: 5 to 7 p.m. today
Where: Centennial Hall, 124 10th St.
Call: City offices at 879-2060 for more information
Document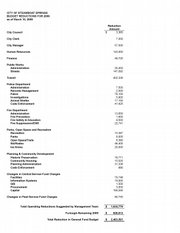 Steamboat Springs — There will be less police and more snow on the streets of Steamboat Springs after the City Council unanimously approved $2.5 million in budget cuts Tuesday.
The budget reduction plan - which still must return to council and be adopted in the form of a new 2009 budget - represents a 17.9 percent decrease in revenues from 2008 and a return to a 2005 level of expenditures. Sales tax, the city's main source or revenue, has seen five straight months of decline, including a 13.5 percent dip in January.
Although the plan passed unanimously, some council members raised concerns such as whether a blanket furlough program is preferable to simply laying off some employees, and whether some core departments were sacrificing more than other, less essential ones.
Council members Walter Magill and Cari Hermacinski said they were troubled by cuts being made by the police and fire departments as compared with those of other departments such as Parks, Open Space and Recreational Services.
The Parks and Rec Department is cutting $97,167, or 1.9 percent, from its 2009 adopted budget of $5 million. The Police Department is cutting $150,075, or 3.8 percent, from its 2009 adopted budget of $3.9 million.
The biggest piece of the plan is an estimated $828,812 in savings from a furlough program scheduled to take effect April 1. The program would require city employees to reduce their hours and pay by 10 percent. Police patrol officers, firefighters, paramedics, transit drivers and dispatchers, and part-time employees are exempt from the furloughs.
"This furlough plan allows us to immediately adjust our expenditures downward," City Manager Jon Roberts said in response to suggestions that the city should have looked at layoffs instead. "We're not proposing that the furlough plan be there long-term."
Roberts, who started with the city just last month, said he still needs to conduct a comprehensive review of the organization that may result in the identification of positions that can be eliminated. As City Council continues to closely monitor revenues and evaluate the budget, City Council President Loui Antonucci said he hopes to repeal the furlough program if the economy improves.
"One of the first things we'll be reinstating is employee compensation," Antonucci said.
An additional $1.6 million is being cut through operating reductions suggested by the city's management team. Some of the reductions were simply the result of revised projections. For example, Human Resources Director John Thrasher said his department and the Finance Department had double budgeted about $60,000, and Public Works Director Philo Shelton said falling fuel prices allowed him to cut in half his original estimate that diesel would cost the city $5.25 a gallon this year. The latter adjustment accounted for $250,000 of the $400,000 worth of cuts in Steamboat Springs Transit's budget, Shelton said.
The majority of cuts, however, are much more real and painful. Planning and Community Development Director Tom Leeson accomplished the majority of his $126,512 in cuts by reducing staff. Community Housing Coordinator Nancy Engelken will go from full-time to 30 hours a week, and all three employees in the historic preservation division will go to half-time.
Public Safety Director J.D. Hays said the Police Department will rely on a federal economic stimulus bill to fund the replacement of three open police officer positions, but it is not clear how soon that can be accomplished. The department will not fill an open community service officer position and will cut its expenditures on code enforcement, training, travel and the replacement of protective clothing.
Assistant Chief Bob Struble said the Fire Department will not conduct physicals and psychological tests and will not purchase uniforms.
"We told everyone what you have in the closet is what you get," Struble said.
Other moves include a reorganization of the city's snowplowing schedule, the elimination of incentive programs and reductions in advertising. The city will no longer contract for janitorial services - duties that will be picked up by city employees. Changes to the snowplowing schedule will include less trucks patrolling the streets and narrower clearing paths.
You didn't even have to leave Centennial Hall on Tuesday night to point to things that will be affected by the cuts, from the audio and visual equipment that will not be replaced to a sticker on the front door advertising the building's use of wind energy credits that will soon be inaccurate.
The city is eliminating all of its renewable energy credits except for those at the Steamboat Springs Community Center. Eliminating the credits at that new facility would jeopardize its Leadership in Energy and Environmental Design certification from the U.S. Green Building Council.
The widespread nature of the cuts was evident even before the meeting began. As part of a $3,365 cut to City Council's budget, the pre-meeting meal that often includes dishes such as tacos and pasta was replaced with salad and fruit. Council's costs will further decrease because members also unanimously voted Tuesday to decrease their pay 10 percent to match the furlough program. Council also discussed cutting some meetings to reduce associated costs. Leeson said he hopes to hold only one Planning Commission meeting a month.
Although the city's adopted 2009 budget shows a balance of $5 million in undesignated reserves at the end of the year, the use of those funds is not part of budget-cutting plan. Roberts said he hopes to save that money for any unexpected expenses that may come up later this year. Hermacinski agreed.
"I just think we need to be cautious at the beginning of this recession to make sure we can get through the rest of it," she said.
The city plans to look at cuts to its $13.1 million capital projects fund next month. Also Tuesday, council met with the Yampa Valley Housing Authority to discuss its roles and future. The council tabled a decision on how to distribute the fees it has collected from its affordable housing ordinance, which it is in the process of overhauling.
- To reach Brandon Gee, call 871-4210 or e-mail bgee@steamboatpilot.com