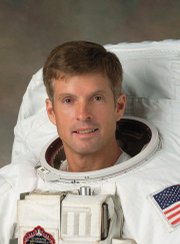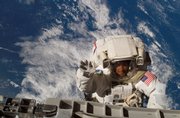 Steamboat Springs High School alumnus and NASA astronaut Steve Swanson will make his second trip to space when Space Shuttle Discovery mission STS-119 takes off Wednesday from Kennedy Space Center in Florida.
The 14-day mission will include four spacewalks, and Swanson will be part of three of them. The six-member STS-119 crew hopes to deliver the fourth and final set of solar array wings to the International Space Station. The arrays will provide the electricity to power scientific experiments and support the International Space Station's six-person crew, according to a NASA news release.
Swanson is scheduled for spacewalks on the fifth, seventh and 11th days of the mission. On day 5, Swanson will help with the installation of a truss segment and unstow the solar array blanket boxes. On his second spacewalk, Swanson and fellow mission specialist Joseph Acaba will prepare a set of batteries for removal from a truss, deploy attachment fixtures on other truss segments and hook up new fluid connections between two truss segments, according to NASA. On his third spacewalk, Swanson and mission specialist Richard Arnold will install a GPS antenna, photograph radiators, configure electric panel cables, install a wireless helmet camera antenna and continue the installation of payload attachment devices.
The truss is a high-tech girder structure made up of 11 segments. The truss provides the backbone for the International Space Station and supports solar arrays, radiators and other equipment, according to NASA.
When completed, the space station's solar arrays will generate 120 kilowatts of usable electricity, enough to power about 42, 2,800-square-foot homes.
Swanson, who graduated from Steamboat Springs High School in 1979, made his first trip to space in June 2007 as part of Space Shuttle Atlantis mission STS-117.
Click on the video below for an extended interview with Swanson.
Swanson visited Steamboat a couple of months after the mission and brought with him several items that accompanied him in space, including an American flag from the city of Steamboat Springs and a sash made for him by local high school students. He entertained a crowd at Centennial Hall with a presentation about his trip to space.
Swanson earned a bachelor's degree in engineering physics from the University of Colorado in 1983, a master's degree in computer systems from Florida Atlantic University in 1986 and a doctorate in computer science from Texas A&M University in 1998.
Swanson and his wife, Mary, have three children. His mother-in-law is Steamboat Springs resident Chris Young, who traveled to Florida to watch the June 2007 Atlantis launch.
Young and her husband, Chan, flew to Orlando on Monday to be part of their son-in-law's second launch.