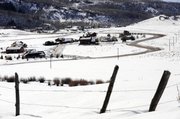 By the numbers
A sampling of Stagecoach lots for sale by subdivision
Coyote: 3
Eagleswatch: 3
Meadow Green: 17
Neighborhood Young's Peak: 7
South Shore: 21
Morningside: 17
Steamboat Springs — Stagecoach was the alternative to overheated Steamboat Springs housing prices in 2007 and claimed 10 percent of the overall unit volume as the Routt County market rocketed to $1.5 billion in sales.
It was a different story in 2008, when unit volume in all categories in the South Routt bedroom community slipped to 39 transactions from the 260 the year before.
Now, owners of the 167 lots on the market in Stagecoach, 20 miles south of Steamboat Springs at the state park of the same name, face a new challenge. The news that tap fees charged by the Morrison Creek Metropolitan Water and Sanitation District would jump from a flat fee of $8,000 per new home to $30,000 instantly, increased the price of construction for families hoping to build an entry-level home and small contractors banking lots for their next spec home.
"I think it's another impediment to sales," Chris Wittemyer, of Prudential Steamboat Realty, said. "Stagecoach has been a very price-sensitive market all along. The additional $22,000 (in tap fees) won't prevent everyone from doing something. But it will make an impact (on some) people."
Wittemyer, who has been involved in the Stagecoach market from the beginning, calculated that at 6 percent and 30 years, the $22,000 increase in tap fees would add $132 to a monthly mortgage payment.
Another way to look at it might be to calculate what portion of a home the $22,000 would represent. Start by assuming a modest price per square foot of $175 because the cost of lumber is down, and bids from contractors should be competitive. Divide 175 into 22,500 and you come up with 125 square feet, or the equivalent of a decent-sized bedroom.
Still, another way to view the higher fees is that they will have a greater impact on builders of smaller homes - the flat fee must be amortized over fewer square feet than it would in the case of a five-bedroom home with 5 1/2 baths.
Building lots at Stagecoach have never really been on a level playing field since the Woodmoor Corp. launched an alternative ski area there in the early 1970s. The water and sanitation district was formed to make home sites more appealing. Continuing to this day, many lots within the district are not eligible for service by the district.
Wittemyer pointed out that even owners of lots that cannot be served by the district pay high property taxes to the district relative to the rest of Routt County. In effect, they subsidize subdivisions that do have service, he added.
And as unlikely as it might seem, the news of the 375 percent increase in tap fees could be welcomed by some owners of undeveloped lots.
Water District Manager Steve Colby confirmed the tap fees have been prepaid on 262 lots in Stagecoach. Many of those property owners paid far less than the old tap fees of $8,000. That can be traced to the mid-1970s, when Woodmoor Corp., and subsequently the district, went into bankruptcy. During the process of restoring its solvency, the district offered to sell property owners certificates that could be redeemed for prepaid tap fees.
Within the Neighborhoods at Young's Peak subdivision, there are seven lots listed for sale, some with tap fees prepaid and some that still require the fees to be paid.
Lot owners who have prepaid the fees have realized a gain with the new rates. Were they to hold their lots until the market rebounds and build a spec house, the developers could realize a greater return compared to a similarly priced home in the same neighborhood.
Realtor Darrin Fryer, with Prudential Steamboat Realty, said he has a lot listed for $139,500 on behalf of a client in Young's Peak who had the foresight to prepay the tap fees.
"If you have a lot listed for $135,00 but the fees aren't paid, you're not going to be the first (taxi) cab off the rank," Fryer said.
Realtor Jon Wade, of Colorado Group Realty, said Stagecoach lot sales virtually were nonexistent last year. He thinks anticipation that Steamboat 700 will deliver attainable lots closer to schools and shopping in Steamboat had a dampening effect even before the recession took hold.
There are two primary classifications of unbuilt lots in Stagecoach - modern subdivisions closer to the lake with good roads, and roughed-in subdivisions up in the trees that date to the Woodmoor days.
Realtor Ulrich Salzgeber, of Buyers Resource Real Estate, said he purchased a half-acre Stagecoach lot in an unimproved but platted subdivision for $123 at a tax sale in the early '70s.
"I took my family out there last summer to see if we could find it," he said. "Without a survey, we couldn't locate it. Not in my lifetime, but maybe someday, it will be valuable."