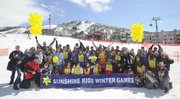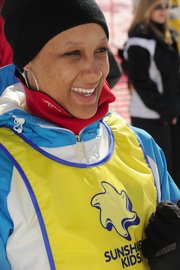 Less than two weeks before she triumphantly sailed down a slalom course on the Stampede run Friday morning, Keyah Worthy finished a round of chemotherapy.
The 17-year-old from Columbia, S.C., took a brief break from treatment for Hodgkin's disease for a weeklong ski trip to Steamboat Springs with The Sunshine Kids, a Houston-based nonprofit organization that serves children with cancer.
Back home, Tuesday, she'll start radiation therapy.
"I felt so isolated during treatment. You're at home all the time, in your room, by yourself," Worthy said. "It was nice to get out and do things, and meet other kids who are going through the same thing.
"There's a couple of other bald kids here," Worthy added, with a wry look in her eyes.
A crowd of instructors and spectators gathered at the base of Steamboat Ski Area on Friday morning to cheer skiers, riders and monoskiers down a slalom course during the Sunshine Kids Olympics on their final day on the mountain.
"I learned much faster than I thought - I only fell twice the whole week," Worthy said.
Children undergoing cancer treatment usually miss a lot of school and many of their normal activities, said psychologist Julian Ruffin, who leads a support group called Lasting Impressions that Worthy participates in back home in South Carolina.
Worthy, a high school athlete, missed out on all of basketball season while she was undergoing chemotherapy but said she is pumped to be back for track this spring.
Worthy was one of 24 children and young adults from across the country who spent the week in Steamboat, learning to ski and participating in other activities including snow tubing and movie nights. The ski instructors also got roped into marathon "Guitar Hero" video game sessions back at the hotel.
"We had a fantasy activity room full of every video game you can imagine and every candy you can imagine," said Jennifer Wisler, director of children's services for The Sunshine Kids.
Thirty children were invited to Steamboat, but six had to back out at the last minute because of medical issues, Wisler said.
Each participating hospital nominates children who still are in or have just completed active treatment, and for the Steamboat trip, those who are interested in learning how to ski, Ruffin said.
"This trip is about being a kid. A lot of times, dealing with cancer robs them of a lot of the opportunities a kid should have," Wisler said.
The Sunshine Kids works with 75 different cancer centers in the U.S. and Canada, and has 10 other annual trips to places including Hawaii and New York, Wisler said.
Participants in this year's annual Steamboat trip came from hospitals in Houston; Dallas; South Bend, Ind.; Vancouver, B.C.; Miami; Orlando, Fla.; Columbia, S.C., and San Diego.
"It's especially nice for the kids from South Carolina and Texas, who don't get to see snow," Ruffin said.