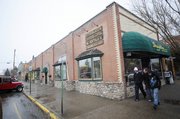 Steve Nelson describes his relationship with tenants as "symbiotic."
Symbiosis, or a relationship of mutual interdependence, defines his theory of landlording. Nelson, who owns the building at 744 Lincoln Ave., suffers when his commercial tenants suffer and prospers when his commercial tenants prosper. But that prosperity has been elusive of late.
To help keep his tenants in business and ensure their mutual survival, Nelson is trying a new tactic: He's cutting the rent for Embellishments and Straightline Outdoor Sports.
"In conversations with both owners of what December sales looked like, well, you'd have to be blind, deaf and stuffed under a rug not to know something happened with the economy last fall," Nelson said.
Nelson's family has owned the building since 1950. Straightline has been a tenant for about 25 years, and Embellishments is entering its 11th year in the building. He said he trusts his tenants and wants them to succeed.
"It basically comes down to good business sense," Nelson said. "You don't want your lessees to have to go bankrupt."
Ashley Edinburg runs Embellishments with her mother, Melinda Miller.
"We were incredibly grateful," Edinburg said about Nelson's decision. "He called out of the blue and asked how our numbers were, and I told him they were down this much from last year, and he said I'm going to lower them that much for the rest of this year."
Nelson said he decided in January to decrease rent an average of 24 percent for his tenants. He wouldn't say what the rent was before or after the change.
"Anybody in the right sense wants to keep the building occupied," Nelson said. "What that takes, I honestly don't know, but I'm prepared to make it happen - within reason. I can't go to zero."
Tracy Barnett, Mainstreet Steamboat Springs manager, said a couple of other downtown landlords had expressed interest in lowering rents. Rents downtown run from about $28 to $35 a square foot, Barnett said, though she has heard that some are as high as $42 a square foot.
Nelson's plan has obvious perks, she said.
"The benefit would be they hopefully don't lose a tenant in this market," Barnett said. "If they lost a tenant, it would probably be pretty difficult to get another one. The benefit for downtown is we don't have a lot of empty spaces. A place doesn't look prosperous if it's empty."
Edinburg said she and Miller already had a lot of love for Nelson, who lives in Fort Collins.
"We have had multiple opportunities to move to Main Street. : We basically have never left our space because of Steve," Edinburg said. "We have an amazing relationship with him. He's been kind of a father figure to me. I can go to him for anything."
Nelson said he was comfortable cutting the rent because he knows his tenants are honest and hardworking businesspeople. Edinburg said she was reworking her inventory to keep it fresh and add low-cost gift items.
"It's important at least for me to make sure my lessees understand that I want them to be successful, and I'm willing to take the pain when they suffer the pain because I'm willing to take the gain when they have the gain," Nelson said.
And again, it's about everyone's survival in a challenging economy, he said.
"The better downtown Steamboat does, the better Straightline and Embellishments do, the better Steve Nelson does," he said. "We get back to this whole symbiotic relationship."
- To reach Blythe Terrell, call 871-4234
or e-mail bterrell@steamboatpilot.com