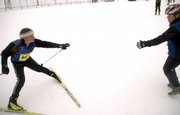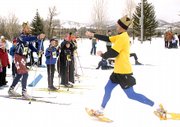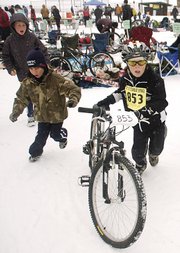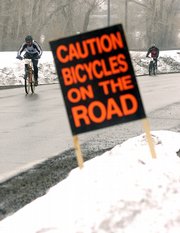 Steamboat Pentathlon results
Women's individual standard course
1. Kelly Bonniface 2:18.31
2. Jenna Gruben 2:25:42
3. Kate Chapman 2:28:17
Men's individual standard course
1. Michael Kloser 1:47:15
2. Barkley Robinson 1:52:18
3. Allen Belshaw 2:01:02
Women's individual short course
1. Cathy Johnson 1:33:04
2. Megan Gregg 1:33:50
3. Genevieve Dice 1:34:03
Men's individual short course
1. Christian Kloser 1:22:17
2. Ryan Bentley 1:22:27
3. Darrin Fryer 1:24:45
Men's team standard course
1. Team Boondock 1:58:32
2. Steamboat Rugby 2:16:49
3. Steamboat Rugby Old 2:37:01
Women's team standard course
1. Nutrition 2:18:41
2. Team Redox 2:31:00
3. Partners In Crime 2:34:31
Co-ed team standard course
1. Creekside 2:04:06
2. Black Tie Skis 2:16:57
3. Thrash N Gasp 2:18:48
Dynamic Duo team standard
1. Keller 2:04:50
2. Two Can Be As 2:11:14
3. Grinta 2:12:55
Team Open Short
1. Cheeze Weeezels 1:13:50
2. Highline Design 1:21:24
3. Victorious Secret 1:38:25
It apparently takes a lot of shoes to be a pentathlon champion.
Mike Kloser's campsite Saturday at the 18th annual Steamboat Pentathlon at Howelsen Hill in downtown Steamboat Springs had enough shoes to make Carrie Bradshaw blush.
Kloser won the event again, burning through seven pairs of shoes to win for the 10th time.
Now, the greatest champion the event has known said he might be hanging up the whole collection.
If Saturday really did mark Kloser's last dance in Steamboat, he went out in typical style.
The 49-year old Vail-based adventurer extraordinaire has never lost when he's entered, and he won this year with a time of 1 hour, 47 minutes and 15 seconds.
Steamboat Springs racer Barkley Robinson was second at 1:52:18.
"This race comes down to having good legs on the run," Kloser said. "There is a lot of running. Three different legs have it. I did real good on that and got some good turnover going."
Steamboat's Kelly Boniface won the women's standard course at 2:18:31, ahead of Jenna Gruben at 2:25:42.
The pentathlon had plenty of competitors just happy to finish, plenty of laughs and plenty of beer cans. Kloser, however, took his 10th go-around just as seriously as he took his first, and it surprised no one when he yet again emerged in front of the pack.
"I prepare for this. I don't like to come over here with the possibility of losing," Kloser said. "It's never a given. The competition here is always fantastic, and I love the way the community supports this event."
He planned to follow up his victory with a trip back to Vail to compete in a 20-kilometer Nordic ski race. Then, he figured to compete in a 10-kilometer snowshoe race today in Beaver Creek.
Other competitors were also set for long trips after Saturday's competition.
Duncan Proctor and Tim MacIntyre made up The Cheeze Weeezels, and the veteran pentathletes raced to the team short course championship.
The pair first stumbled upon the Steamboat event four years ago while at Colorado School of Mines, and they have made the trip to the Yampa Valley a yearly tradition.
That wasn't much of a commitment for MacIntyre, who drove up from Golden. Proctor, meanwhile, caught a flight from the Democratic Republic of Congo.
"I timed my trip home just so I could do the Steamboat Pentathlon," said Proctor, who works as an exploration geologist. "It's become a tradition. Every time we come back, it's a little bigger. They put on a great show."
All told, 266 competitors hit the trails Saturday morning as either individual competitors or as a part of a team. The short course amounted to nearly 14 miles of Alpine and Nordic skiing, snowshoeing, running and mountain biking. The standard course added 10 miles to that.
This year's race featured 11 children's teams, and like many of their full-grown counterparts, they were happy to have finished and already eager for next year.
"We will definitely be back," said Finn O'Connell, flanked by the four other members of Kat's Kidz.
The group, consisting of Kathleen O'Connell, Koby Vargas, Natalie Bohlmann and Dominique Katthain, was made up of Steamboat Springs Winter Sports Club Nordic combined 10- and 11-year-olds.
They were second in their division, behind Maddie Ruppel, Cara Piske, Evan Weinman and Tanner Heil, of The Motley Crew.
"One thing we need to do differently is wear glasses," said Finn, who rode the 7.4-mile bike course. "When it started snowing, it hit my eyes, and I forgot to bring glasses.
"We also need to work on our transitions."
Mike Kloser will be looking for a transition of his own.
"I may come back, but it may be just to support my son," said Kloser, nodding at 15-year-old Christian Kloser.
Christian Kloser won the men's short course event and has his eyes set higher.
He said he'd consider bumping up to the standard course next winter.
"I've always wanted to be like my dad," he said.
Someone has to fill the shoes.