Audio clip
Steamboat Swings practice 1
Audio clip
Steamboat Swings practice 2
Steamboat Swings practice
See audio slideshow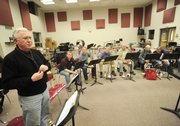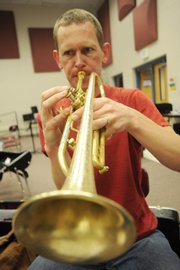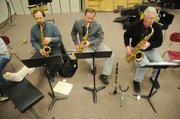 If you go
What: Steamboat Swings concert and dance
When: 6:30 to 7:15 p.m. dance lesson, 7:30 to 10:30 p.m. swing dance, March 21
Where: Steamboat Grand Resort Hotel ballroom
Cost: $15 a person or $25 a couple includes a 45-minute swing dance lesson
Call: 871-5500
Steamboat Springs — The idea started with a scheduling request.
Emerald City Opera founder Keri Rusthoi was looking for a big band to play the opera company's annual New Year's Eve fundraiser. She asked Henry Savage - an avid saxophone player and board member for Strings Music Festival - whether he could get a group together.
Time was short, and a swing band didn't form for the event. But the idea was planted. And Savage - who had played in stage bands through college and stepped away from saxophone for 30 years before picking it up again in partial retirement - started thinking about how to form a community jazz band in Steamboat Springs.
"It was an idea and sort of a dream that I've had in the back of my mind for a good while for Steamboat," Savage said.
A few years later, that dream has come to life. Steamboat Swings started rehearsing late last fall and will have its first gig March 21 as the stage band for a community dance in the Steamboat Grand Resort Hotel ballroom. Dance instructors Polly Cogswell and Charles Horton will give a free swing lesson before the music starts.
The 17-person Steamboat Swings band features amateur and professional musicians from three counties and plays from a book of about 40 swing, Latin and jazz ballad charts including "In The Mood," "All of Me," "Take the 'A' Train," "Mack the Knife," "Route 66" and "It Don't Mean a Thing (If It Ain't Got That Swing)."
"This is all working out almost better than one could have reasonably expected in the beginning," Savage said.
Swing to a younger generation
When Savage had time to devote to forming a band, he sat down with Steamboat Springs Orchestra members John Fairlie and Leland Miller to make a list. They called musicians they knew in town, players they'd heard of but hadn't performed with - anyone, really, who had a horn and a little experience and might want to play some swing music.
Steamboat Springs High School band director James Knapp was on that list. A former trombone player in The Glenn Miller Orchestra who had access to the best rehearsal facility in town in the high school music room, Knapp said working with Steamboat Swings was a natural connection. The community band also offers advanced high school musicians a chance to sit in on rehearsals.
"They just love coming in, and they like the faster pace of the rehearsal," Knapp said about the seven students who have come to the weekly rehearsals. "It's pushed them, and it's inspired them to get better at reading because you don't have as much time to practice."
Savage said he's interested in continuing to provide an interaction between younger players and professional musicians.
"That's a very satisfying part of the whole exercise to me, is to keep that sort of music alive and well and get some young people interested in it, because it's a very exciting kind of music," Savage said.
A place to play
Each section of Steamboat Swings includes at least one player who has made music for a living.
Knapp plays lead trombone. Mark Rasmussen, who played professionally in big bands and orchestras in the San Francisco Bay area before moving to Steamboat, plays lead trumpet. John Fairlie, the executive director of the Steamboat Springs Orchestra who played in Louisiana big bands before Hurricane Katrina, is on lead alto.
"As the Steamboat Springs Orchestra has grown into its fullness, we've been able to capitalize on having these good musicians in town for the swing band," Savage said. Having strong players anchoring each section allows a chance to bring in more amateur musicians to fill out the band, he said.
"The core is really a fine, fine group of musicians, and that allows us to tap into the amateur but experienced music community and fill this out into a 17-person band," Savage said.
Gigging swing bands with open seats are hard to come by, especially in a town the size of Steamboat Springs, Rasmussen said.
"How many big bands are there to play in? It just doesn't happen," he said. The band needs most available musicians in town to fill its roster - Rasmussen said he has been impressed with the results.
"You kind of need every trumpet player in town and every saxophone player in town, but they're all good enough to play," he said.
For Knapp and the other Steamboat Swings musicians who have found an outlet in the band, getting together every Thursday night to play swing music is about just that: getting together and playing music.
"We're all doing this because we like it," Knapp said. "We really honestly are in it for the love of what we're doing."