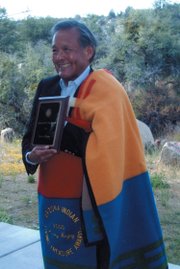 Tom Ross
Tom Ross' column appears in Steamboat Today. Contact him at 970-871-4205 or tross@SteamboatToday.com.
Find more columns by Tom here.
Casual acquaintances of the late Harvey Begay probably never guessed that the mild-mannered Navajo jeweler was a driven combat aviator in another life.
Begay died at home in Steamboat Springs on March 2 at the age of 70. When they received the news, members of the two very different worlds of art and naval aviation mourned alike.
Begay, who lived here for nearly 37 years, was internationally known for his contemporary Native American jewelry. He was a respected figure for many years at the annual Indian Market in Santa Fe, N.M., as well as a member of the board of trustees at the Hurd Museum in Phoenix.
As a younger man, Begay served as the backseat radio officer in an F-4 Phantom interceptor jet and saw combat in Vietnam during the mid-1960s.
It's difficult to reconcile the Harvey Begay who moved to Steamboat Springs in 1972 with the dashing Navy lieutenant who posed for a photo on the ladder of a Phantom in October 1966.
But his ex-wife, Paula Begay, says unless you knew Harvey really well, you might not have understood that he constantly was competing with himself, whether he was running a marathon or pushing himself to work longer hours in his studio.
Begay was well-known to his fellow Rotarians here, but most Steamboat residents have been oblivious to the gifted artisan who labored seven days a week in his little studio overlooking Lincoln Avenue from the upper floor of the Squire building. His relative lack of fame in his own town can be attributed to his humble nature and the fact that most of the stunning necklaces and belt buckles were done on commission for galleries and longtime clients.
There was even more to Harvey's rewarding life than naval aviation and custom jewelry. Upon winding up his career as a production test pilot with McDonnell Douglas in St. Louis in 1970, he and Paula moved to Window Rock, Ariz., to be closer to family and to see if they could blend into Navajo culture. It was no sure thing. Although Begay spent childhood summers herding a flock of his grandparents' sheep, his parents had attended boarding school away from the reservation. He was not raised in the traditional way.
During his brief time in Window Rock, Harvey became involved in the effort to reform schools. He directed a group of high school and college students who undertook a research project exploring how life on the reservation could be improved. And he worked for 18 months as assistant director of secondary education for the Navajo tribe.
However, Harvey's tendency to act as a quiet rabble-rouser made some Navajos uncomfortable, and the family decided they needed to move on.
In the summer of 1972, they packed up their VW camper and set off to explore the mountain towns of Colorado. After landing in Steamboat, they became one of the first retail tenants in Gondola Square.
Harvey was the son of a famous Navajo jeweler, Kenneth Begay. He acquired European techniques for working gold from Pierre Touraine in Phoenix, and he blended those new styles with traditional Navajo styles. And of course, Harvey selected his turquoise from specific mines in Nevada.
His jewelry career reached a milestone in 2005 when he was presented the Arizona Living Indian Art Treasure Award.
Harvey and Paula's daughter, Kamisha Siminoe, of Craig, has been studying diligently with her father for several summers, and she is determined to carry on his legacy as a Navajo crafts person, her mother said.
Harvey was a heck of a storyteller, and although it's tempting to relate his harrowing tale of being chased by North Vietnamese MiGs, his story about pulling the ejection seat handle on a Phantom is even better.
After the war, Harvey took a position with McDonnell Douglas at its flight-testing facility outside St. Louis. The job involved taking new fighter jets off the assembly line and putting them through their paces.
On March 21, 1968, Harvey had just taken off in a Phantom when the controls suddenly jammed. It later turned out that careless mechanics had left some tools inside the tail section of the aircraft, causing the mechanical linkages to jam.
Luckily for Harvey, he was flying a Phantom intended for use by the Navy on that fateful day. The ejector seat carried an extra rocket booster because naval pilots had experienced difficulties ejecting from just above a carrier deck.
Harvey always figured that when he grabbed for that handle on the ejection seat, the extra booster was the only thing that shot him far enough into the sky to allow enough time for his parachute to open.