Photo Gallery
New shows for First Friday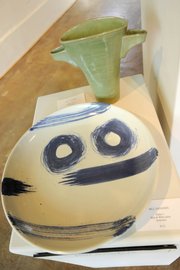 Photo Gallery
March 6 First Friday Artwalk

Past Event
Friday, March 6, 2009, 5 p.m. to 8 p.m.
Wild Horse Gallery, 2200 Village Inn Court, Steamboat Springs
Not available / Free
Past Event
Friday, March 6, 2009, 5 p.m. to 8 p.m.
K. Saari Gallery, 837 Lincoln Ave., Steamboat, CO
Not available / Free
Past Event
Friday, March 6, 2009, 5 p.m. to 9 p.m.
Artists' Gallery of Steamboat, 1009 Lincoln Ave, Steamboat Springs
Not available / Free
For more
See the 4 Points art calendar for a full listing of First Friday events, including new work opening at the Steamboat Springs Center for Visual Arts, Comb Goddess salon, Creekside Cafe, Dovetail Designs, Off the Beaten Path Bookstore and Urbane clothing store.
Steamboat Springs — When Susan J. Thompson tries to count the layers of pigment and wax in one of the 39 encaustic paintings lining the walls at K. Saari Gallery, she tends to lose track.
The coats of formed beeswax, paint, finely etched lines, geometric designs and color swirls run together on many of the works in "Cat Walking," a show that opens with a reception from 5 to 8 p.m. today as part of First Friday Artwalk.
Thompson - who moved from Steamboat Springs to the Boulder area in November - spent the past three months working more or less nonstop on the encaustic works. Made with heated beeswax spread on a piece of wood, Thompson's encaustic paintings draw on her background in other media, she said.
"I feel more like a sculptor and printmaker than a painter really, because the surfaces tend to build up," she said.
The title "Cat Walking" is inspired by a saying common in Tai Chi - "one should step like a cat walking" - and by the way her pet cat's thin orange and white hairs grouped together when collected, Thompson said. The works contain a lot of the kind of reserved energy used in Tai Chi in the layers of wax.
Made with tools traditionally used to paint Ukrainian Easter eggs, Thompson's encaustic paintings are a sculptural take on the painting medium.
"People who use encaustic tend to be labeled that way, but they're really painters who use encaustic," Thompson said. "I'm a painter who just happens to use encaustic as the paint medium."
Artists' Gallery of Steamboat
At least a couple of the paintings Susan Schiesser has on display at the Artists' Gallery of Steamboat were inspired by a canoe that wouldn't float.
Schiesser bought the boat from a family on an atoll off the coast of Honduras. The family needed a working boat to feed its children, so Schiesser ended up with a sinking canoe. The experience gave her paintings a global mindset, she said.
"I started to really become inspired by how in an agrarian-minded society something like that really is the lifeblood of the community, and I think it extends into all parts of a culture," Schiesser said. The canoe images join other beach scenes in Schiesser's portion of the March featured artists show at the Artists' Gallery of Steamboat.
Bill Sanders gets back to the basics in his ceramic art for the show, using blue and white glazes to design serving dishes and lilac vases.
"Blue is kind of always a happy color - it's the color and the summer sky and clouds and a bluebird day," Sanders said. The functional ceramic pieces are meant to be uplifting and continue to push the boundaries of what Sanders does with his art, he said.
In her series of paintings of Steamboat scenes, Dancy Gould St. John focuses on simple images that are subject to change. As the landscape and economic climate around town changes, the beauty of simple scenery remains, St. John said. Her paintings include images of a child's rain galoshes and views from locations around Routt County.
"It's about things that are changing but are still beautiful out there," St. John said.
Wild Horse Gallery
Richard Galusha never paints from photographs.
Instead, he spends a couple of hours out in the field for each of his plein air paintings, making color sketches of a scene that he'll take back to the studio and turn into a larger, finished work.
"When you're out there for two hours, you're really studying it and comparing all the shapes and values," Galusha said. The result isn't an exact depiction of the landscape - it's more of an interpretation of what the artist has seen, informed by what he saw there.
"Even though I'm using really a limited amount of information that I have on the plein air sketch, I'm trying not to put in too much information because I'm trying to edit down the works," Galusha said.
"It's really more like poetry than it is like having every detail in there, like a novel. : Poetic themes seem to allow the viewer to have more of a personal imagination - you can get more of that in poetry than you can in a novel that's laying everything out for you," he said.
In the works featured at the Wild Horse Gallery's downtown location this month, gallery co-owner Galusha focuses on water and the local scenes nurtured by it.
"We've got water issues - people are wanting to take more water out of the Yampa - and it's really a big part of our livelihood here," he said.