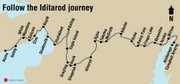 On the 'Net
The annual Iditarod Trail Sled Dog Race starts at 10 a.m. Saturday in Anchorage, Alaska, then restarts at 2 p.m. Sunday in Willow, Alaska.
Check in at www.steamboatpilo... throughout the two-week adventure to follow Thurston's progress and to read updates from Alaska.
There have been no nightmares so far for Tom Thurston or his family, who joined him this week in Anchorage, Alaska, before the start of his first Iditarod Trail Sled Dog Race on Saturday.
No sudden visions of essentials left sitting on the kitchen counter. No sick dogs or sick people.
"He did ask me to download a few more CDs onto his iPod and to empty the pictures off his camera," Thurston's wife, Tami Thurston, said Thursday from Anchorage. "It's all going good."
Oak Creek's Tom Thurston will kick off from the starting line of the 1,150-mile mushing marathon at 10 a.m. Saturday morning. The first part of the race is a 20-mile stint through Anchorage.
The race restarts at 2 p.m. Sunday in Willow, Alaska, where the 67 mushers signed up for this year's event will take on the long trek to Nome, Alaska, a town of nearly 4,000 on the coast of the Norton Sound of the Bering Sea.
The racers start one by one from Anchorage. Thurston's spot in the massive lineup was settled late Thursday night. He was guaranteed to start in the top 50.
He drove to Alaska with his dogs late last month and has spent the past few days settling in and preparing for the adventure.
The course record is eight days, 22 hours, 46 minutes and 2 seconds. Lance Mackey won the race last year in nine days, 11 hours, 46 minutes and 48 seconds.
Thurston doesn't anticipate being among the champions this go-around, however. Instead, he's hoping to train his young dog team to run the trail in preparation for future trips to the iconic competition.
"Most of the dogs on the team are under 2 years old," Thurston said before leaving Oak Creek last month. "Rather than take a bunch of adults and have aspirations of maybe being competitive and have it not work out for me, I'll bring younger dogs, take my time and set the goal of getting to the finish line.
"It will let the dogs learn what running an 1,100-mile race is all about. The same goes for me."
Thurston estimated he'd finish the course in about 15 days.
"He has had a big list of things to do every day and has gotten them done. I think he's ready," Tami Thurston said.