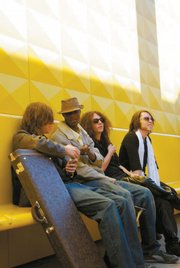 Past Event
Friday, March 6, 2009, 10 p.m.
The Boathouse Pub, 609 Yampa Street, Steamboat Springs
Not available / Free
Chris Marquez, guitarist for the Denver-based Rowdy Shadehouse Funk Band, insists he isn't often asked where his band got its name.
But for anyone who wants to know, here's the story: Marquez - along with Chase McQuade on bass, Jon Thursday on vocals and Max Schouweiler on drums - had been playing with a musician from New Orleans while the band looked for a name. Without giving an explanation, the Crescent City musician dubbed the quartet The Rowdy Shadehouse Funk Band. That was it - the group has played under that name ever since.
The band plays a blend of funk, rock and soul today and Saturday at The Boathouse Pub. Marquez talked with 4 Points about what the shows will be like and what he likes about funk music.
4 POINTS: What can people expect from your shows in Steamboat?
CHRIS MARQUEZ: It's a whole show. We've got the singer dancing and getting everybody up, and the guitar player's playing behind his head and teeth and all that. Basically it's just a dance band. It's a high-energy funk band.
It's a good time - you can't really have a bad time if you're listening to funk. All the music is all about good times; it's dance music, straight up.
4 POINTS: How do you make a crowd feel that high-energy funk music?
CM: Basically we just lay the beat down and toes will start to tap. And then our singer, he gets up there and starts singing and people just start to dance. It's kind of weird, but people just want to dance.
4 POINTS: Who are your influences in this band?
CM: George Clinton, James Brown, Sly & the Family Stone - all that kind of good old jazz and funk. : It's good-time music, and it has good instrumentals. You've got to be able to play.
4 POINTS: Out of those influences, which is your favorite?
CM: I've got to say James Brown or George Clinton. George is my personal favorite - he's just hilarious.