Photo Gallery
2009 free concert series lineup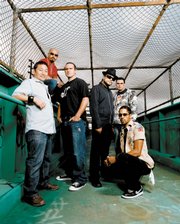 Past Event
Saturday, March 7, 2009, 3 p.m.
Gondola Square , 2305 Mount Werner Circle, Steamboat Springs
Not available / Free
2009 free concert series lineup
2009 Bud Light Rocks the 'Boat free concert series lineup (all concerts start at 3 p.m. at the base of Steamboat Ski Area, except a 7 p.m. concert by Citizen Cope):
¤ Saturday, Yo Mama's Big Fat Booty Band: A five-piece dance-funk group from Asheville, N.C., the Booty Band plays a high-powered brand of funk that draws a little on rock, reggae and hip-hop, but mostly sticks to its feel-good-music roots. Listen to the band at www.myspace.com/y...
¤ March 14, The Reverend Peyton's Big Damn Band: This Indiana blues trio puts out songs that are basically in the old-time blues tradition - except that they're fed through Josh Peyton's bizarre acoustic warp. As a result, songs that are otherwise influenced by acts like Mississippi John Hurt end up having titles like "Your Cousin's On 'Cops'." Cleverly written with plenty of washboard and Peyton's signature storyteller voice.
¤ March 21, John Brown's Body: On Tuesday, Massachusetts reggae group John Brown's Body released a remixed edition of its 2008 record "Amplify." The project points to a shift of styles in the band - which started in the 1990s with a foot planted in roots reggae, and through a number of personnel changes has taken on a more contemporary feel. Listen to the band at www.myspace.com/j...
¤ March 26, Citizen Cope: The Brooklyn-based Citizen Cope is hard to pin to one musical style. Led by Clarence Greenwood (who, on keyboard, guitar and vocals is close to a one-man band), Cope brings a touch of hip-hop to backgrounds that draw mostly on pop, with a little bit of world music groove. Listen to Citizen Cope at www.myspace.com/c...
¤ April 4, Ryan Shaw: Part Otis Redding, part Wilson Pickett, part modern-day R&B, New York singer Ryan Shaw falls back on early soul music with a natural, gospel-rooted ease. Listen to the singer at www.myspace.com/t...
¤ April 12, Ozomatli: It is close to impossible to listen to Los Angeles-based Latin hip-hop band Ozomatli without wanting to dance. Since forming in the 1990s, Ozomatli has honed an irresistible blend of Salsa rhythm, rock 'n' roll backing, hip-hop verses and no-holds-barred dance music. Listen to the band at www.myspace.com/o...
Steamboat Springs — Before last summer, Yo Mama's Big Fat Booty Band had never played Colorado.
The Asheville, N.C.-based funk band came to Denver through a connection from home, played a couple of shows and had a great turnout. Almost immediately after the band members got back East, they got a call from the Jazz Aspen Snowmass festival asking them to play, said guitarist J.P. Miller.
"In the wintertime, it just kind of blew up - we started getting all this response for the ski areas wanting us to come out and do shows," Miller said. Steamboat was one of those ski areas. On Saturday, the Big Fat Booty Band opens the 2009 Bud Light Rocks the 'Boat free concert series in Gondola Square.
In its six years of providing "high-energy, sweaty music" to venues throughout the Southeast and around the country, the Booty Band has gone through a few line-up changes, falling for a while into a more pop-oriented sound before gravitating back toward funk.
"We call it 'bounce music' - which I think was coined by some lame rapper somewhere - but it's mostly a funk-based music," Miller said, adding that the band also throws some hip-hop and some reggae into the mix.
Lately, the Booty Band has experimented with a more aggressive feel that Miller said lines up with parts of Rage Against the Machine or early Beastie Boys recordings.
"Everything's still danceable, but definitely the music is always evolving," he said.
With a full horn section and a dance groove that doesn't give its audience much of a break, Yo Mama's Big Fat Booty Band has solidified a sound it originally created as an excuse to party.
"When we started out, really it was just about we could all get together and jam and there would be free beer involved and all of our friends would be there," Miller said. "Somewhere along the line, we started focusing on the music a little bit more seriously."