Photo Gallery
Steamboat Springs High School AP Studio Art show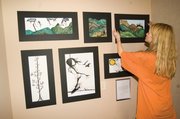 Past Event
Friday, March 6, 2009, 5 p.m. to 8 p.m.
Steamboat Springs Center for Visual Arts, 837 Lincoln Ave. , Steamboat Springs
All ages / Free
Steamboat Springs — Rashelle Stetman looked at the patches of paint missing from a wall at the Steamboat Springs Center for Visual Arts and debated where to put her biggest work, a hyper-detailed pen-and-ink drawing that took about a month to complete.
She'd tried putting the piece in the middle, but it didn't balance well with the half dozen drawings that needed to go with it. After a few attempts, the wall was missing more than a couple of squares of paint, peeled off with removable Velcro wall adhesive.
Stetman, an advanced placement studio art student at Steamboat Springs High School, has been working for this show all year. An exhibit of the AP class's art opens with a reception from 5 to 8 p.m. today at the grand opening for the Center for Visual Arts.
The AP art program is in its first year at the school, and its students are responsible for designing and executing six or seven pieces for the show, writing an artist's statement to explain them and arranging matted pieces in the gallery. On Tuesday afternoon, Stetman tried to find a wall design that would go over well with high school art teacher Lisa Derning.
"She wants us to try and do it and figure out where to put things and how it goes together," Stetman said. "And then she comes over and tells us why it's wrong."
Derning jokes with her students about the sometimes frustrating process of hanging their first show - when Stetman asked, "Where should I hang this piece of junk?" as she finished up her display, Derning answered, "Anywhere there's a piece of tape." But the underlying purpose of displaying the students' work in a professional gallery is more serious.
"It's showing their ability and it's taking it to a professional level," Derning said. Knowing the art will be on display in a public gallery motivates the students to do their best work, Derning said.
"Because it is in a professional environment, they care about the matting, and they care about how it looks," Derning said.
In May, AP studio art students will digitally submit 12 observational works and 12 concentration works to the College Board; the national board scores the art to determine college credit for the class. The show is a class requirement and features work from the students' art concentration.
"What you're seeing here is basically their passion about art, what they've been working on all semester and how they've grown," Derning said. The students have varying backgrounds and concentrated on photography, pottery or painting before enrolling in AP studio art. At the beginning of the school year, everyone focused on still life and observational work.
"They were all at the same kind of level, and they all went in different directions," Derning said. "They all geared toward what they value, which I think is important."
Working on a wall about 10 feet away from Stetman, students Aimee Jones and Meghan Hartley used a function on an iPod touch to draw a level for their work. Jones stapled descriptions below her angel-inspired pencil drawings while Hartley finished balancing her brightly colored landscapes and cityscapes drawn in felt pen and colored pencil.
"Getting it straight and getting the display to look harmonious is the toughest thing, because each of us had a different style," Hartley said.
The students' work will be on display through the end of the month.